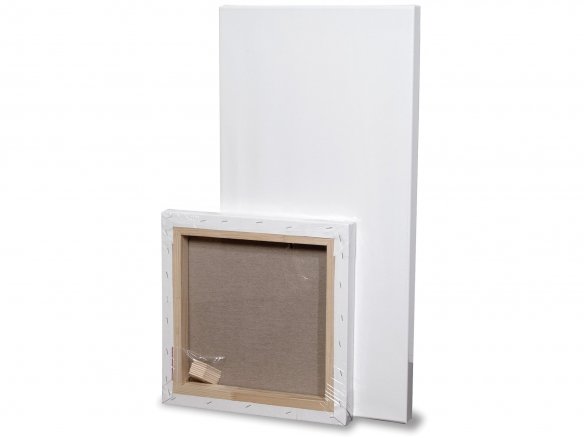 softwood (conifer) stretcher bar 40 x 35 mm (D = depth of bar x BW = width), covered with ca. 330 g/m² cotton fabric, medium texture, lightly absorbent, back side is stapled, for all painting techniques, comes without wedges
The ready made stretched canvases in Germany are covered with cotton or blended fabric (cotton/polyester). Both surfaces are suitable for all painting techniques from acrylic to oil through to gouache.
Cotton or blended fabric? This comes down to a question of personal taste. The blended fabric is somewhat cheaper but it should be noted that their different types of fibre can act differently - for example, in response to temperature and moisture fluctuations. And this can negatively influence the bond between the image medium, the primer and the coat of paint.
For larger sizes we recommend that you use the stretched canvas with the stronger bar height (READY MADE STRETCHED CANVAS, D = 40, COTTON) because it is sturdier. Wedges are not included with your order but can be found under WOOD WEDGES FOR STRETCHER FRAMES.
Ready-made stretched canvas, D = 40 mm, cotton
13 Variants
300 mm
400 mm
500 mm
600 mm
700 mm
800 mm
1.000 mm
Note
Fluctuations in the humidity can occasionally cause a stretcher bar to warp. In order to prevent that, you should keep in mind that any change of your picture´s environment can cause damage. Most natural fabrics contract when wet. For that reason, a stretch canvas should not be wedged out at the corners before you do your painting. This contracting property of the fabric can be put to good use in instances when dents or light creases have shown up on your canvas: you can wet it yourself from the back to remove them.