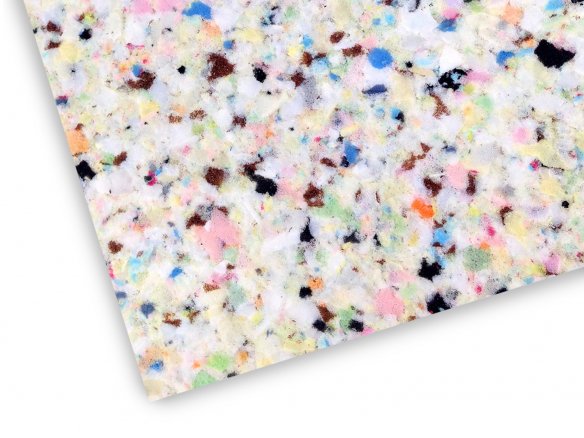 open cell, temperature range (long term) approx. -40 to +80 °C, certified according to Oeko-Tex Standard 100
Chip foam is made with recycled material: pieces of foam with different densities, colours and firmness that are left over from other production processes are dumped together, compressed and bonded to one another. An especially firm and heavy foam is thereby produced, one that, even in thinner versions, is used for firm, rather rustic-styled padding or cushions that will last for a long time. This foam absorbs impact especially well but, because of its high density, is still able to be used as an impact protection or as a packaging material and as vibration dampening or sound insulation for containers or rooms as well.
Because of the way it is made, the colour of this product can vary a great deal from order to order; the firmness, as well, can also vary but normally to an extent that is not really noticeable. Because of this, the data information we supply for all the other types of foam has been reduced for this version to the density only; for example, VB 80 or 120, whereby the foam with the lower density (80) is softer and lighter and the one with the higher density (120) is firmer and heavier.
PU chip foam 120, multicoloured, 25 x 400 x 600 mm
Note
The actual colour of the foam may be a lot different than shown in the picture.