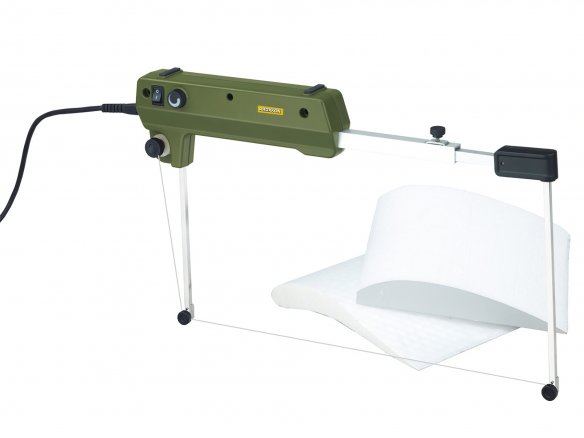 Free or stationary use
Stepless temperature control
Constant wire tension
For model construction, insulation work etc.
Material Housing

plastic injection

Material bracket

aluminum/plastic/steel

Cutting length

400-650 mm

Depth of cut (passage)

200 mm

Features

stable wire tension by spring element, stepless and electronically constant temperature control

Connection voltage

230 V, 50/60 Hz

Power

60 W

Secondary voltage

max. 40 V, 1.2 A

Cutting wire temperature

at ø 0.2 mm

Weight

850 g

Protection class

Device is insulated according to Class 2

Supplied accessories

Screw clamp, 30 m cutting wire ø 0.2 mm
You can use this versatile hot wire cutting bar for free cutting of polystyrene foam, polystyrene hard foam and soft PU foam, as well as fixed stationary, for more precise cuts. The latter works, if you attach the power supply with the clamp to a table top.
With the telescopic arm, you can adjust the cutting length of 400-600 mm - wide enough to push through whole styrofoam plates in standard size. Due to a spring element in the holder arm, the tension of the cutting wire remains constant, even if it stretches when hot. You control the cutting temperature steplessly - it is kept constant electronically while working.
Modulor Tip: Our model department wanted to have the hot tailor necessarily and has become really creative, to introduce you yet another application for the Thermocut 650: With the help of two wooden boxes and some sawing from the cutting bracket as needed, you can have a stationary thermosaw with a clean, working support surface. The special feature is that with this Lifehack you can exceed any cutting height of other stationary thermal saws, which is no more than 205 mm, at least for our machines.
Proxxon Thermocut 650 hot wire cutter, incl. 30 m spool of wire and screw clamp (27084)