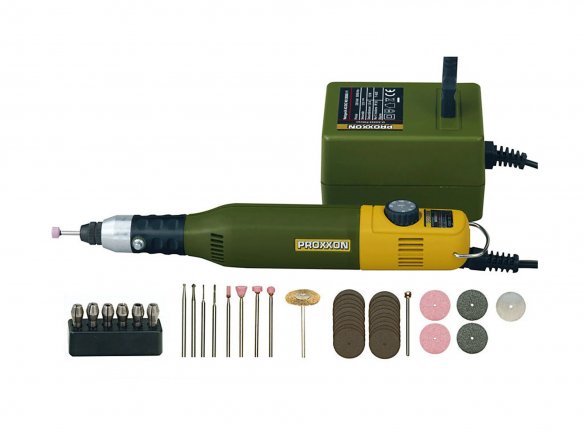 Proxxon milling/drilling machine Micromot 50/E, basic transformer with 1 socket for Micromot plug, includes 34 bits and cutters of industrial or dental quality and 6 steel collet chucks (ø 1.0/1.5/2.0/2.4/3.0 and 3.2 mm), comes in sturdy plastic case distribution voltage (power supply): 12 V revolution speed; 5,000 - 20,000 rpm power output: 40 W hucking capacity: 1.0 - 3.2 mm transformer: 12 V/ 1 A
The Proxxon model building and engraving set contains, in addition to the drilling/milling tool Micromot 50/E, a transformer and numerous accessories. This combination makes it a practical and reasonably priced acquisition for beginners.
The following components are included in the set: one diamond grinding bit, one fine miller, 0.5 and 1.0 mm micro-drills, one brass brush, four corundum grinding bits (cylinder, sphere, disc and cone shaped), one saw blade, four grinding wheels (2 corundum, 2 silicon carbide), twenty cutting discs, one arbour and six Micromot steel collet chucks for bits with diameters of 1.0 – 3.2 mm.
Proxxon model building and engraving set, Micromot 50/E, transformer, accessories (28515)