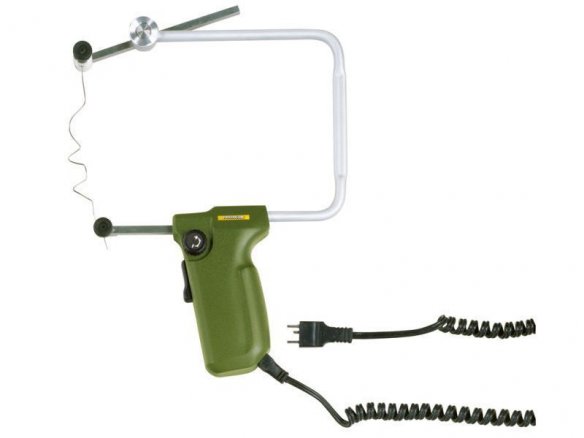 plastic housing, pivotable and extendable wire fixing element, infinitely variable cutting temperature, power cord is 0.5 m Output: 60 W Voltage: 12 V Working temperature: adjustable from about 150 °C – 400 °C Maximum total extension: 200 mm Maximum work piece height: 150 mm Heat-up time: 1 second Weight: 345 g
In addition to the stationary thermo cutters that serve so well for precise work with their guide bars and angle adjustments, we also offer this handheld machine for the decoration, model making and hobby sectors with which polystyrene foam and other rigid foam materials (e.g. STYROFOAM, SELITRON PS RIGID FOAM PANELS) can be cut free-hand.
Cutting large rigid foam panels with a stationary machine with its relatively small working area can be very difficult or even impossible. Similarly, the maximum width of the cutter opening of a stationary hot wire cutter limits the size of the cuttable shapes.
This hot wire cutter, with its extendable and pivotable wire fixing element, makes it possible to cut appreciably larger pieces. The retaining frame is flattened in the rear area making it easier when cutting larger sheets to guide it through the cut slot. The cutting wires can be shaped by hand or tongs to manufacture any profile. The wire heats up at the press of a button in one second. Its temperature is infinitely variable and therefore perfectly able to find the right temp appropriate to the density and thickness of the workpiece. A basic rule of thumb would be to use medium temperatures, moderate pressure and a steady hand.
When replacing the wire you should only use PROXXON REPLACEMENT CUTTING WIRE THERMOCUT 12/E. The considerably thinner cutting wire used with the stationary machines will overheat quite quickly in this handheld machine and can burn up. In addition, that wire is too weak to be stretched enough for cutting purposes.
A mains adaptor is necessary to operate this hot wire cutter. You can order one in our shop: Proxxon mains adaptor Micromot
Proxxon hot wire cutter Thermocut 12/E, with 5 deformable cutting wires (27082)
Note
Because the cutter operates at temperatures up to 400 °C there is definitely a danger of burning yourself!