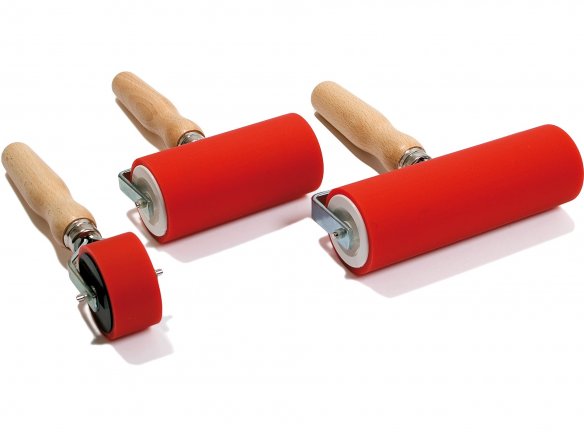 5 mm thick hard-wearing, pressure elastic plastic covering, waterproof and limited oil-resistance, aluminium core with plastic hubs, sturdy flat steel support frame, nickel-plated, beech handle with transparent varnish, roller bearing with plastic bushing, weight is 135/260/375 g
Pressure rollers are excellent aids for pressing things on, but they can also be used to apply the paint before impressing, for example, linocuts or woodcuts. We have the rollers in our product line primarily as a means of affixing ink-jet prints, photographs and paper as well as for attaching labels and adhesive films.
These pressure rollers, which are made in Germany, are of high quality and are great value for the money considering that their thick, robust covering is made from soft plastic and wrapped around a moisture resistant aluminium core. The sturdy steel bracket and the plastic bushing for the roller bearing provide good rotation with little wear to the roller pin and the aluminium core will not warp even when thoroughly washed out with water.
Hints as to how to affix things with the help of the roller used in conjunction with spray glue or, alternately, how to apply double-sided adhesive film with the roller can be found under the headings "Uses" and "Treatment" which appear under relevant products (see, for example, Kapa Line) or in the general information under "Paper, Cardboard, Paperboard" (not yet in English).
Pressure roller, standard
3 Variants