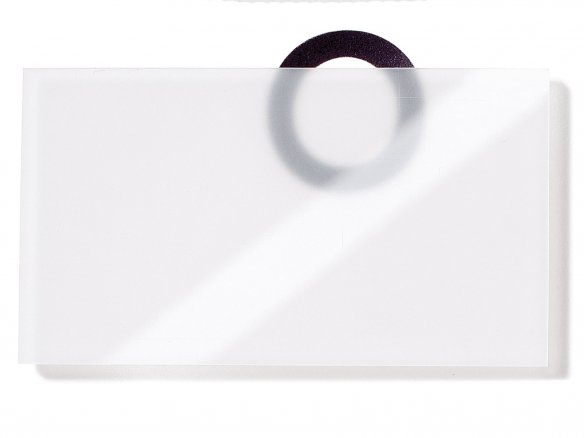 Very low thickness tolerances
Surface

glossy/glossy, with protective film on both sides

Processing

cast, trimmed on all sides

Thickness tolerance

± 0.1 mm for plates up to s = 1.0 mm, ± 0.2 mm for plates from s = 1.5 mm

Deformation temperature

130°C - 170°C
The translucent precision acrylic glass is, so to speak, the workable plastic frosted glass. Objects behind them blur in their contours. With increasing distance, this effect becomes stronger and stronger, so that it's no longer possible to see what's hidden behind the glass. It's translucent, yet almost opaque.
Don't confuse the translucent precision acrylic glass with the matt precision acrylic glass. The translucent material described here has glossy surfaces. If you want to use low-reflection surfaces, please choose the slightly matt or heavily matt precision acrylic glass.
Precision acrylic glass can be drilled and milled splendidly. The material especially shows its strengths when machining with CNC milling because it doesn't melt, and, thanks to its low tolerances, allows even the most delicate work to be done. If you want to deform the thermoplastic material, you should bring it to temperatures between 130°C and 170°C, depending on the material thickness.
Precision acrylic glass, translucent, colourless
2 Variants