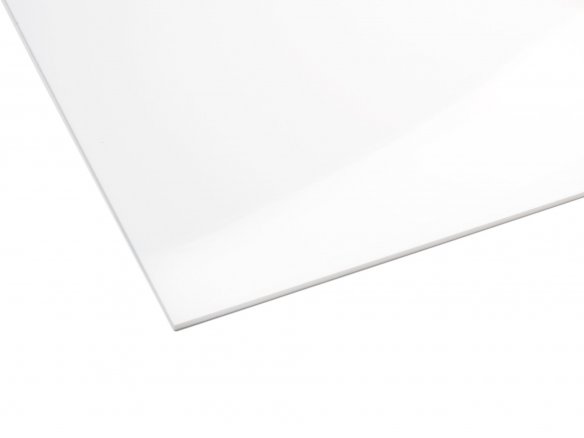 Very low thickness tolerances
Surface

glossy/glossy, with protective film on both sides

Properties

cast, trimmed on all sides

Thickness tolerance

± 0.1 mm for plates up to s = 1.0 mm, ± 0.2 mm for plates from s = 1.5 mm

Deformation temperature

130°C - 170°C
The white precision acrylic glass is opaque and looks very elegant due to its glossy surface and perfect flatness. Therefore, it's particularly suitable for high-quality veneering or in architectural model making for presentation models.
Precision acrylic glass has significantly lower thickness tolerances compared to commercially available acrylic glass sheets. In production, every single sheet is manually checked for thickness tolerances and visual defects to guarantee consistently high quality.
You can process precision acrylic glass very precisely. It can be drilled and milled with ease, and the material especially shows its strengths when machining with CNC milling: it doesn't melt, and, thanks to its low tolerances, allows even the most delicate work to be done. If you want to deform the material thermally, you should bring it to temperatures between 130°C and 170°C, depending on the material thickness.
Precision acrylic glass, opaque, white
4 Variants
1,00 mm
1,50 mm
2,00 mm
3,00 mm