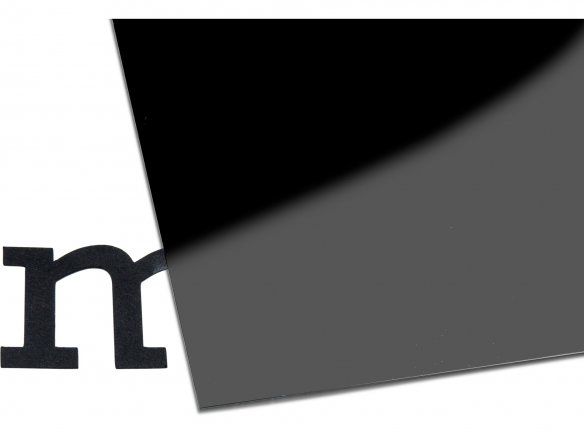 Very low thickness tolerances
Surface

glossy/glossy, with protective film on both sides

Properties

cast, trimmed on all sides

Thickness tolerance

± 0.1 mm

Deformation temperature

130°C - 170°C
The black precision acrylic glass is opaque and looks extremely sophisticated and refined on the surface – similar to piano lacquer. Therefore, it's particularly suitable for high-quality veneering or in architectural model making for presentation models.
Precision acrylic glass differs from other commercially available acrylic glass sheets due to its extremely low thickness tolerances. This quality standard is guaranteed during production by manual control of each sheet on thickness tolerances and optical defects.
Precision acrylic glass can be drilled and milled splendidly. The material especially shows its strengths when machining with CNC milling: it doesn't melt, and, thanks to its low tolerances, allows even the most delicate work to be done.
Precision acrylic glass, opaque, black
2 Variants
180 mm x 330 mm
740 mm x 1000 mm