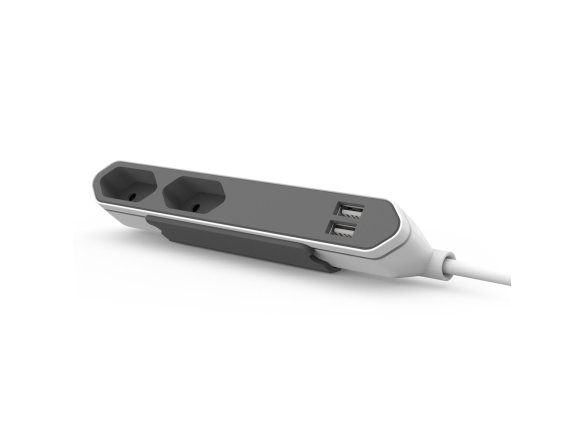 Always 2 sockets and 2 USB ports within reach
Easy to mount under desktop
Space-saving and unobtrusive
Quickly recharge your smartphone and tablet
Electrical Outlet Connection

2 x 230 V/16 A

USB-Output

2 x 5 V/2.1 A

Power Cable

length = 1.5 m with plug

Size

175 x 38 x 25 mm (L x W x H)

Weight

190 g

Material

Plastic

Color

white/grey

Accessories

Mounting bracket (self-adhesive)
Never crawl under the desk to find a power outlet! With the PowerBar USB, the power supply at the workplace is always within reach. With the self-adhesive mounting bracket, the multiple sockets in a slender bar shape can be easily be attached to a discreet place, for example, under the tabletop or on the leg.

In addition to the two child-safe power outlets for ungrounded plugs, the PowerBar is equipped with two USB ports for fast charging of mobile devices such as tablets or smartphones. By directly plugging the charging cable into the USB ports, the two outlets are not blocked by power supply adapters and are available for powering other devices.

With its handy size, the PowerBar fits into any travel bag and is useful when there is only one outlet in a hotel room but several devices need to be charged at the same time.

The docking station is installed flat or slightly tilted with the enclosed double-sided adhesive strip at the desired place to save space. In the tilted position, the clicked PowerBar is slightly more accessible.
PowerBar USB (charger) incl. mount, 2 x USB 2,1A 5V, 2 x 230 V, cable 1,5 m, grey