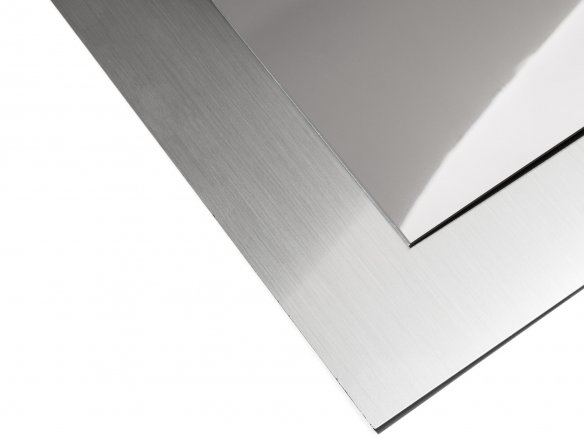 impact resistant, reverse side is black, front side with protective film
At first glance, the surface of the brushed metallic polystyrene looks exactly like stainless steel and this makes it a good alternative to that material especially because it is so easy to work with in comparison. Despite the brushed look, the surface is completely smooth, which means that it is very easy to clean. Because they only have limited suitability for wet rooms, the sheets should not come into direct contact with moisture.
This product corresponds to the construction material class B2 (German norm), i.e. normal inflammability, which means that it can not be used in public spaces or exhibition rooms without prior consultation with the proper authorities.
Polystyrene Metallic, coloured, brushed, is suitable for use in the decoration of various surfaces and is primarily utilized in interior decoration, for display window arrangements, and in stores and trade show constructions. It can, however, also be used to enhance the appearance of surfaces in such fields as furniture design where is may be found being used as facing or trim panelling.
Polystyrene metallic, coloured, brushed
6 Variants
260 mm x 500 mm
520 mm x 1000 mm
1000 mm x 2080 mm