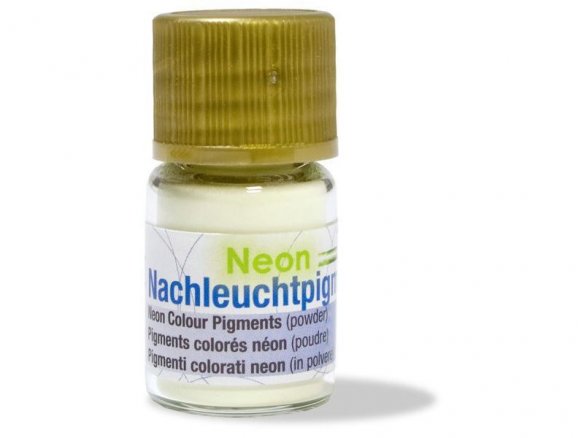 yellow green, phosphorescent (afterglow effect), hazard warning: N dangerous for the environment
On many wristwatch clock dials or signs for emergency exits you will find colour pigments with a characteristic yellow-green colour that indeed glow in the dark. The phosphorescent part "charges" itself when exposed to artificial light or sunlight and then radiates the light back out into the darkness. Modulor offers self-adhesive FLUORESCENT FILM and other materials that remain visible in the dark but these pigments have the advantage that you can stir them into practically anything, which is to say you can "contaminate" practically any liquid (except: substances containing acids). So it is that this pigment can be used with solvent-based paints or even casting resin in order to make frightful monsters or, yes, practical objects in, for example, a silicone mould. In doing so, however, you should take into account that transparent resins like POLYESTER GTS will become opaque upon curing or, to put it another way, they will lose their transparency – in exchange, however, they will indeed glow in the dark! We have done some testing by stirring the pigment into BOOKBINDING GLUE and were completely delighted by the glow-in-the-dark binding of the booklet! We also found that the pigment was particularly high yielding – you don't need a lot to get the effect.
Pigments (Latin "pigmentum": paint) are colour-giving substances that are insoluble in their vehicle (lacquer, paint). Pigments are primarily used in picture painting. The colouring capability of a pigment depends on its chemical composition, on its crystalline structure, on the size of the particles and on their inner surfaces.
They are divided into inorganic and organic groups that can either be synthetically or naturally produced.
The natural inorganic pigment group includes earth (clay) and minerals (ochre, umbra, … or, alternatively iron oxide, cinnabar, …) that require little or no preliminary preparation (drying, milling, etc.). Inorganic synthetic pigments like ultramarine can only be produced artificially (mind you, they are indeed more stable and have greater purity). Inorganic pigments derived from lead or arsenic are highly toxic, which is why they are not part of Modulor´s assortment!
Natural organic pigments are produced from either animal (e.g. purple) or plant substances (e.g. indigo). Synthetic organic pigments are subdivided according to their chemical composition; e.g., azo pigments made from oil.