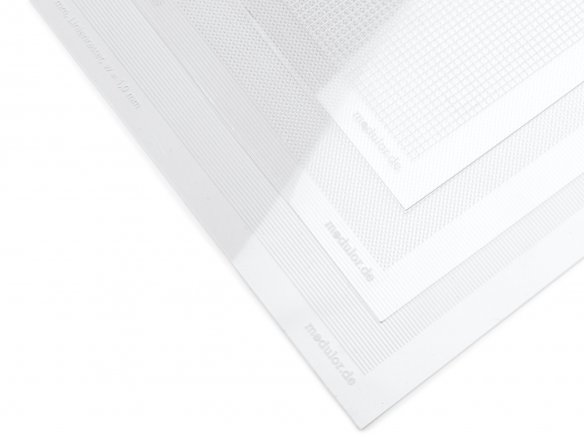 transparent, colourless, glossy/glossy, one side with protective film/white screen printing
Applications: These films made of PET-G, which are screen printed with white patterns, are excellent for representing transparent areas (glass facades, windows or railings) in architectural models. By laying the patterns one upon the other interesting Moirés are produced.
Textured sheets, self-adhesive films, perforated sheets or wire mesh can all be used as alternatives for the patterned sheets.
Treatment: The PET-G films can be nicely cut with a BLADE. The edges can be bevelled or trimmed with the hot-wire of a THERMO CUTTER. This can spare the model maker a lot of gluing steps when making, for instance, an architectural model with staggered facades. These films can be glued to each other, to POLYSTYRENE, POLYCARBONATE or to ACRYLIC GLASS without any traces when DICHLOROMETHANE is used.
PET-G patterned sheet, imprinted
10 Variants
grid lines
dot matrix
square grid
rectangular grid