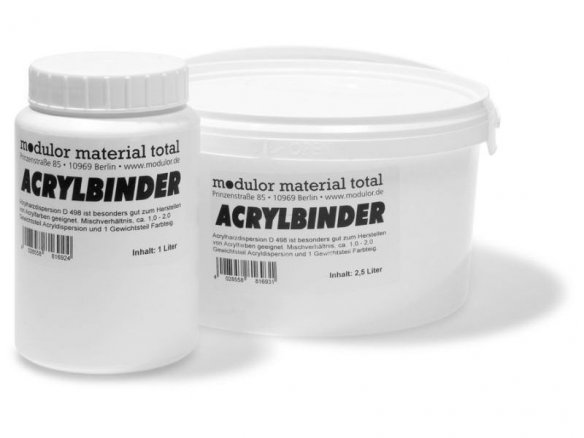 medium for acrylic pigments, semi-gloss when dry
Much like our CAPAROL, the Modulor acrylic binder D 498 is used in the making of paints, for priming purposes or for glazed finishes and painting in general. D 498 is a cheaper alternative to Caparol but is definitely of comparable quality. In contrast to Caparol, it dries to a semi-gloss finish and also cannot be so evenly spread when used undiluted.
The mixing ratio when making ACRYLIC PAINTS is from 1 to 2 parts per weight of Modulor C 498 to 1 part colour slurry (mash). The slurry itself consists of approximately 2 part per weight of PIGMENT to 1 part water.
Modulor Acrylic binder D 498, semi-glossy
2 Variants