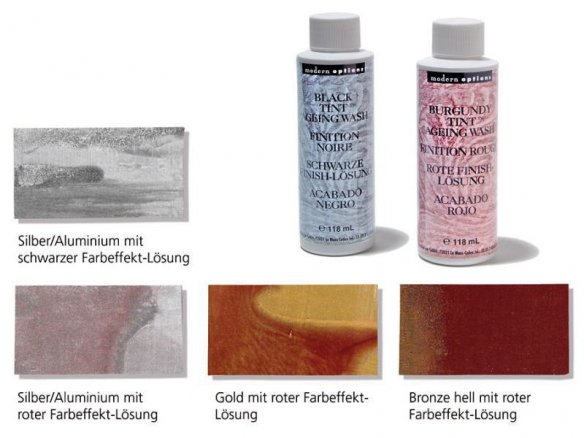 tinting solution (not an oxidation agent) for (partial) darkening or antiquing the Modern Options metal paints in silver, gold and blond bronze
These tinting solutions produce a coloured or, alternatively, a darkening effect on objects that have been painted with the MODERN OPTIONS METALLIC SURFACERS. This solution adds colour and contrast to any of the metallic finishes found on objects or sculptures and serves to give them with a more vivid look. For example, silver or aluminium, when treated with the black solution, will acquire the typical tarnished look that often appears on silver tableware. The red solution produces on gold and blond bronze a natural aged look.
In contrast to antiquing agents, the tinting solutions do not contain any oxidation agents, but are, rather, pure paint-based finishing solutions. They can also be used on patinated objects (see, MODERN OPTIONS PATINA GREEN/RUST ANTIQUING AGENT).
first, the object should be painted with MODERN OPTIONS METALLIC SURFACER and allowed to dry for 10 minutes. Then, a second coat should be added and, before it is dry, the tinting solution should be applied with a brush or a sponge to the areas you wish to enhance.
When being used on objects that have been antiqued, the solution should be applied with a cloth or a brush. The antiquing agent should not be completely dry so as to allow a better mixing of the tones. We recommend that you first make a trial run.
| | | |
| --- | --- | --- |
| Metallic surfacer | Antiquing agent | Tinting solution |
| silver/aluminium | - | black or red tinting solution |
| gold | green patina | red tinting solution |
| copper | green or blue patina | - |
| iron/steel | rust | - |
| blond bronze | green or blue patina | red tinting solution |
| blackened bronze | green or blue patina | - |
Modern Options tinting solution
2 Variants