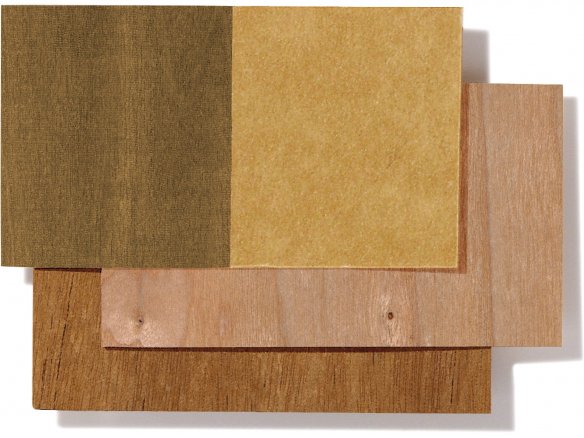 material

real wood veneer with paper backing (white paper on the maple, brown on the cedar, cherry and walnut)

Veneer thickness

approx. 0.1 mm

Grain direction

parallel to the first given dimension
Microwood veneer is one of the finest, up-market products being produced from wood anywhere in the world. The unique process is able to produce extremely thin veneers (0.08 – 0.15 mm) that are almost like paper. Because of the thinness of the veneer and its paper backing, this material has an enormous degree of flexibility and resistance to breaking both lengthwise and crosswise – so much so that it can even achieve a wide range of folding radii. In addition, Microwood veneer can be embossed, stamped, perforated as well as printed using offset, digital and screen methods. The lighter coloured maple version is better than the darker ones for making printed products for the obvious reason that a greater degree of contrast can be achieved. The darker versions, however, achieve good contrast when they are laser printed. Further information about printing work can be found in the PDF file below. Bonding work is best done with all-purpose glues (Tesa, Uhu), white glue (e.g. Ponal express) as well as double-sides adhesive tape or film. If you are storing Microwood, exposure to strong sunlight should be avoided as well as large swings of humidity and over-drying.
The single-sided version of this veneer can be worked with much like paper or thin cardboard. In order to bend or fold this material in the direction of the grain you only have to make a crease with a folding bone to achieve a clean fold; when working against the grain you can lightly scribe a line with a sharp blade in order to make your fold as exact as possible. This thin veneer is therefore an excellent choice for making things like envelopes and CD covers, individual calling cards, up-scale greeting cards, exclusive packaging and book covers as well as for laminating cardboards and use in model making. Especially interesting is the sweet smelling cedar version of this veneer because it can be used to line drawers and shelves in a wardrobe: it is said that the essential oils in the wood will protect the contents from moths.
Microwood paper--backed veneer, single-sided
4 Variants
Maple
Cherry
Walnut
Cedar
Note
The one-sided veneer is extremely thin and tends to want to roll up as a result. We therefore highly recommend that you only use this product in instances where it will be applied to a carrier material.

Wood is a natural product and each sheet of Microwood veneer is unique, each having its own grain, colouring and structure. Please note that the various types of wood have differing levels of brittleness and their cell structures are by nature also different. The maple and the cherry have surfaces that are the most closed.

The veneer is untreated. This means that the colour tones that it gives off will change according to the angle of the light hitting it, most especially when it is exposed to direct sunlight.

Microwood is a patented product and copyrighted name and can only be sold or processed by licensed dealers. All products made from Microwood must display a notice to that effect. Commercial production of envelopes, packaging of all types, lamp shades, file folders, menu cards and CD covers using Microwood veneer remains the sole perogative of the Microwood company.