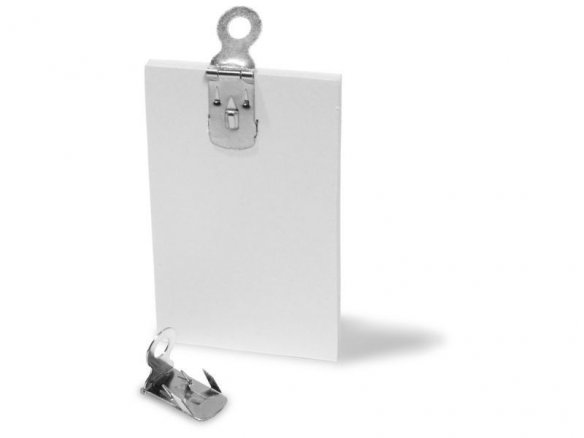 steel, nickel-plated, silver, comes in PE bag
These metal hangers offer the easiest and at the same time best method of hanging foamboards like, for example, Kapa line. The staple from the hanger is simply pressed through the covering of the board and into the foam. In the case of 3 and 5 mm boards, care must be taken that the staples do not push all the way through the board. If a foamboard is eventually taken down from a wall, the hangers can be removed from it so they can be used again.
Jointed metal hangers have, in comparison to the less expensive versions without a joint, the advantage that they are much easier to hang. This is especially obvious in cases where you want to hang the panel so that the eyelet cannot be seen from the front. With the help of the joint, the eyelet can be attached with a gap between it and the back of the panel without having to bend the whole hanger unit.
Metal foamboard hangers, with joint
2 Variants