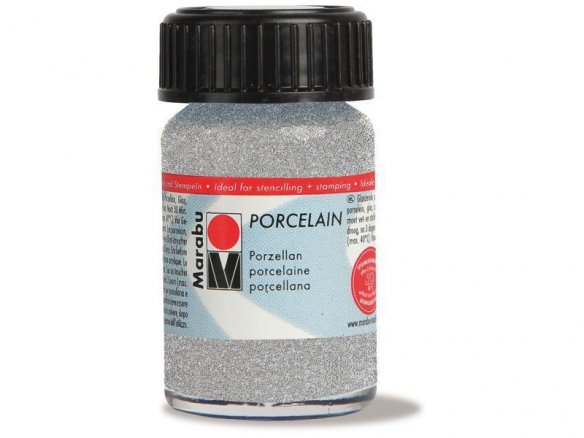 water-based, opaque paint, high gloss, lightfast, dishwasher safe, odourless, maximum dishwasher temperature is 50 °C
Marabu Porcelain paint is a high gloss, water-based paint that is easy to apply to porcelain, metal and glass with wonderful results.
Applications: Before applying this paint, your object must be thoroughly cleaned with denatured alcohol to assure that it is free of grease and dust. A HAIR BRUSH can be used to apply this paint for glazing or covering work but stamping and stenciling will also work just fine. The PORCELAIN PAINTER PEN enables you to produce fine details and beautiful writing strokes.
Marabu Porcelain is dust-dry in 30 minutes and dishwasher washable after 3 days drying time or immediately after oven curing for 35 minutes at 160 °C. It is advisable that when washing your painted objects the dishwater heat setting should be no more than 50 °C. In order to prevent the paint from eventually rubbing off at much used areas of your painted plates or glassware, we recommend that you avoid painting over cut-out designs on plates as well as on the rims of glasses and cups.
Marabu Porcelain paint
27 Variants
Note
According to the manufacturer, the ability of the paint to withstand a dishwasher cycle (no matter what kind of print motif) is not dependent on whether you air dry or oven cure your object – although it should be noted that the paint will be more durable if indeed cured in an oven.