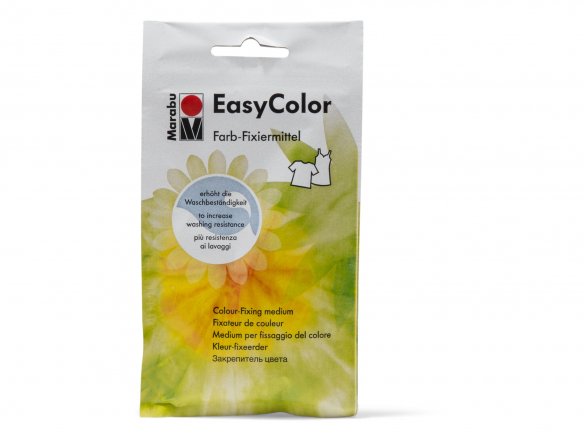 lightfast, not washable long-term (fades after numerous washings), hazard warnings: fixing agent 22
Description
Hazard warnings
Marabu EasyColor batik and colouring dye can be used on all non-finished fabrics made from cotton, linen, silk, viscose and blended-fibre fabrics (up to max. 20% synthetic fibre) as well as Japanese paper. This paint is basically for hand dyeing and resist techniques like, for example, wax batik, tie-dyeing and pleating (Plangi), needle techniques (Tritik) as well as Dévoré dyeing ("two-dyeing technique"). Pack contents are sufficient for intense dyeing of 150 grams of fabric (just add water). Medium to light colouring will be achieved when dyeing up to 300 grams of fabric.
The original colour shades can only be achieved on white textiles. In the case of coloured fabrics, the resulting colour will be a combination of the dye and the original colour. The dyeing solution can be stored for several days but it should be heated up again before further dyeing work is done.
Fabrics that are batiked or dyed will tend to fade after successive washings. To increase the resistance to fading, a fixing medium should be employed and the material washed by hand in a colour-care detergent for delicates up to a max of 40 °C. For fabric dyeing that will withstand machine washing for the long term, we recommend that dyes designed for that purpose are used.
Danger, Cyanamidderivat/Polyamin-kondensationsprodukt = >= 2,5 < 10 %, Polydiallylmethylammoniumchlorid = >= 1 < 10 %, 2,2'-Oxydiethanol = >= 1 < 10 %, (VOC-Gehalt/Wert (EU) = 1,9 % / 19 g/l), Aquatic Chronic 3
Hazard warnings
H412: Harmful to aquatic life with long lasting effects.
Safety instructions
P273: Avoid release to the environment.
P501: Dispose of contents / container to …
Downloads
Marabu EasyColor batik and colouring dye, bag 25 g, fixing agent 22