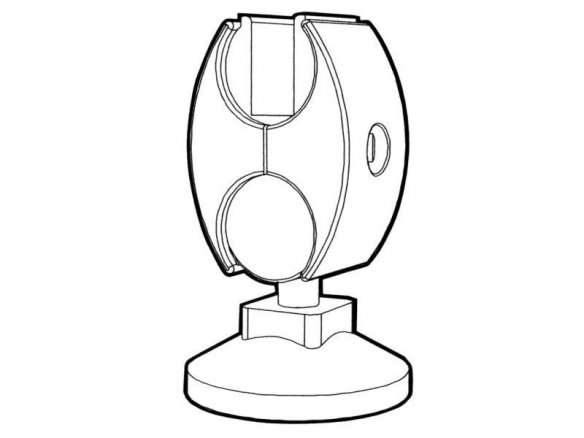 panel connector for panels with thicknesses of 6, 8, 10, 12, 16, 19 mm, zinc injection moulding, matte nickel-plated (silver), continuous angle variability, dimensions: 72 x 45 x 34 mm, weight: 179 g, includes (5 mm) Allen screw, light grey roller set (inserts), design is by Teddy Puschkarski
Since 1969, the Klemetric panel connector has been the real classic when it comes to constructions for trade fairs and exhibitions - constructions, that is, which consist of panels of equal or unequal thicknesses being put together in variable angles to form walls or rooms. No other construction components besides an Allen key are required! The system, which has been distinguished with the Austrian Prize for Design, cannot help but amaze you with a simplicity that simultaneously allows for multiple possibilities. The universal connectors together with the appropriate elements (sets of roller inserts) make it possible to join panels with 8 different thicknesses into continuous variable angles between 90° and 270°. When employing panels with thicknesses between 6 and 10 mm it is even possible to create an inclusion angle of 60° (to build a three-sided prism). In this manner it is easy to create curvilinear or folded wall lay-outs, prisms, cubes, pyramids or cupolas. It is possible to make connections between panel and panel (also of different thicknesses) as well as panel and tube (four different tube diameters). Suitable panels include all those with both flat and hard edges as, for instance, panels derived from timber products, synthetic panels (e.g. Forex, acrylic glas etc.), panels of glass or composite materials (e.g. Dibond) as well as those of light sandwich materials such as Kapa Mount or honeycomb board.
The Klemetric universal connector consists of a movable core (the roller inserts) made from synthetic rubber that is fixed between two metal jaws by means of a screw. The roller inserts when placed in the core are connected by a small flexible flap in order to stop them from falling out of the connector body. By screwing in the screw, the panels that have been pushed into place are securely clamped between the jaws at the desired angle. If you want to connect two panels with different thicknesses you simply remove one of the roller inserts and replace it with one that matches the required thickness. The large Klemetric universal connector accepts sets of roller inserts for panels with thicknesses of 6, 8, 10, 12 16, 19 mm. The height-adjustable floor element (foot) that is available for the larger version of the Klemetric system makes it possible to set panels between 60 and 75 mm above the floor so that the edges are protected – e.g. while cleaning the floor - and any unevenness in the floor can be equalized. The foot consists of the usual two metal jaws and a foot element made out of plastic that includes a screw which can be unscrewed to a length of about 15 mm. An insert for the panel must be purchased separately. The fact that such inserts come in pairs means that you only need to order one to complete two foot units.
Tubes can also be safely and securely connected with the universal connector. The larger connector can handle tubes with diameters between 25 - 27 mm without an insert; with an insert, tubes with a diameter of 20 mm can be connected. Klemetric Mini can handle tubes with diameters between 15 - 17 mm without insert; with an insert, tubes with 13 mm diameters. Please don't hesitate to ask about the sets of inserts for tubes and pipes if your needs so require.
Klemetric universal connector floor element, floor element (foot) w/o castors, height adjustabl