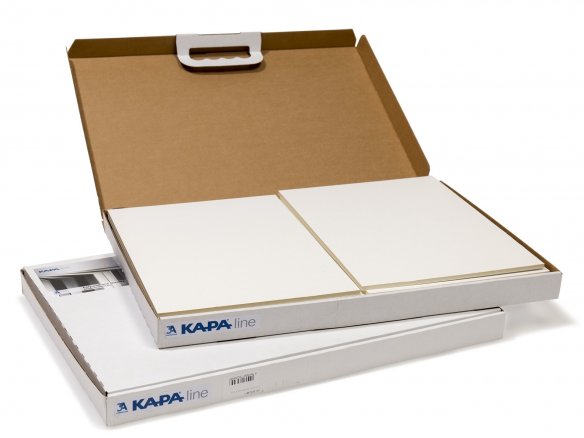 Proven for more than 50 years now!
Material

light-coloured PUR rigid foam core

Covering

both side of board covered with matte white pigmented chromo board
DIN formatted Kapa line packaged in a box - easy to handle and cleanly cut. Kapa line is the universal product in the Kapa sandwich board palette. Because its core is covered on both sides it can be nicely grooved or notched and is easier to cut than the boards based on Kapa Mount. This makes it the optimal architectural model making material for architectural scales from 1:100 to 1:1. When thus employed, it combines well with BRISTOL BOARD, OFFSET DRAWING PAPER/BOARD or SERIGRAPHY BOARD. When laminating or coating Kapa line, the back side should be laminated as well as a counterbalance because the board might otherwise warp. If the boards are painted with DISPERSION PAINT or completely colour treated, both sides must be handled for the same warp resisting reasons.