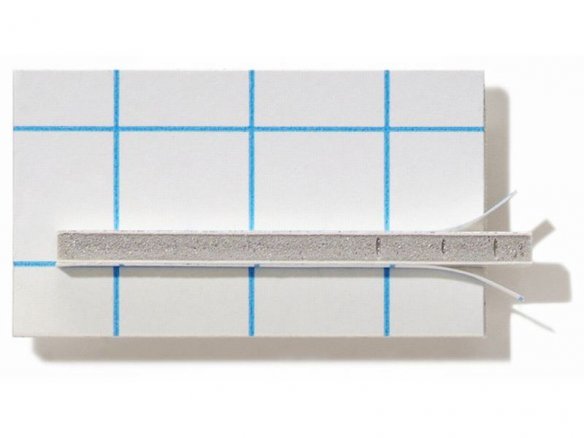 Proven for more than 50 years now!
light grey PUR rigid foam core, Kapa mount that is covered on both sides with white self-adhesive cardboard (one side printed with blue squares)
The main advantage of Kapa fix is that for someone in a hurry it skips a step in the mounting process because the self-adhesive is already present – either on one or both sides. The material upon which Kapa fix is based is the aluminium strengthened Kapa board which is the perfect plane for layouts. It is not necessary – even in cases of large mountings – to cover the reverse side of Kapa fix as insurance against warping because the aluminium foil takes care of that problem for you. And, despite such stability, it is still easy to cut Kapa fix boards by hand with a cutter!
Boards without a self-adhesive covering can also be used instead of Kapa fix: e.g. Kapa line or mount, Forex, polystyrene sheets, DIBOND, serigraphy board, finnboard, grey board or honeycomb board. Boards without a self-adhesive covering can be made self-adhesive by applying double-sided adhesive film, spray glue or transfer adhesives. When using these alternatives for mounting large size attachments, the reverse side should always be covered with a similar material (except for Dibond) because otherwise there is the danger of warping.
We will cut Kapa boards to any size you want but you should know that you will be charged for the whole board because any remainders would be of no use to us. Check out our CUSTOM CUTTING SERVICE information regarding this subject.
Kapa fix, double-side self-adhesive
4 Variants
700 mm x 1000 mm
1000 mm x 1400 mm
1400 mm x 3000 mm
Note
these articles have a longer delivery time!

Please note that we can only ship the middle and the large size per forwarding agency which means that there are higher shipping and handling costs.