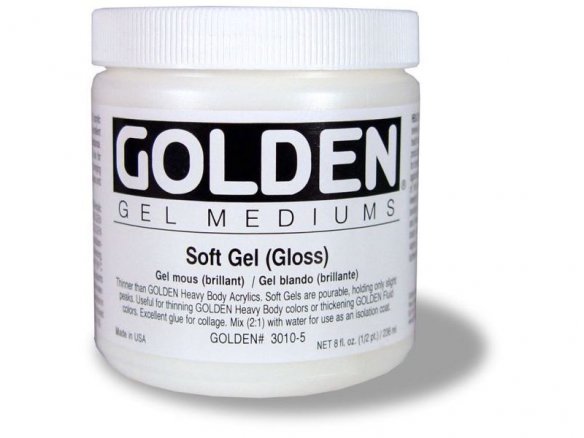 acrylic polymer binding agent, water-based, viscous, milky white in liquid form, transparent or, alternatively, translucent colourless when dry, miscible with acrylic paints, other gels, pastes and painting mediums, waterproof, flexible, lightfast, age-resistant
The consistency of the Golden Soft gel can best be compared to a creamy yoghurt. Brush strokes display soft, rounded edges; if a wider and softer brush is used, a beautiful velvetty surface is achieved. When mixed with a small amount of acrylic paint, the resulting application will be a rich, brilliant glaze. The most transparent of the Golden Soft gels when dry is the glossy version; the semi-gloss version dries to a waxy finish (similar to what is produced by the encaustic painting technique).
Application: Because of its creamy consistency and high level of binding capacity, the glossy version of the Soft gel is the best suited of all the Golden gels for use as an adhesive for making collages because it stays wet just long enough to enable the collage material to slide around but will dry to such an extent that thin paper will not tend to roll up at the edges. A further use of the Soft gel is as a primer for the wet-in-wet painting technique: for this, the gel must be generously applied to the painting surface with, for example, a palette knife and, while it is still wet, liquid acrylic paint should then be painted into it - this will produce deep and rich brushstrokes.
The glossy Golden Soft gel (thinned 2:1 with water) can be applied as an irremovable, transparent insulation coating before the application of a final removable finishing varnish. Please note: the semi-gloss and matte versions cannot be used for this purpose! 
Golden Soft gel
3 Variants