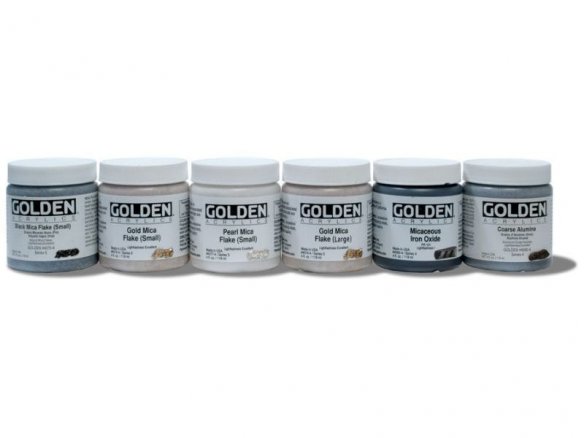 metal pigments or mineral glitter in acrylic polymer binding agent, water-based, pasty consistency; mixable with acrylic paints, other gels, pastes and painting media, waterproof, lightfast, age-resistant
The Iridescent gels provide a selection of fine to coarse grain textural metallic surfaces for glittering, light reflecting effects. The gels will not darken with age and are suitable for outdoor use because they consist of mineral glitter particles or, alternatively, completely oxidized metal pigments (Micaceous Iron Oxide und Coarse Alumina). The mica-flake gels with the larger glitter particles produce a highly reflective glittering texture that can be further enhanced if it is mixed with other glossy gels. A mixture of Micaceous Iron Oxide  and acrylic paint produces a deep, dark, matte colour hue with a rough surface. The same gel can also be applied as a base coat whereby a dark green, rough surface for pastell chalks and coloured pencils is produced.
The Iridescent line among the GOLDEN HEAVY BODY ACRYLICS with its fine grain, real metallic colours serve to expand the possibilities of these Iridescent gels.
Golden Iridescent gel
6 Variants