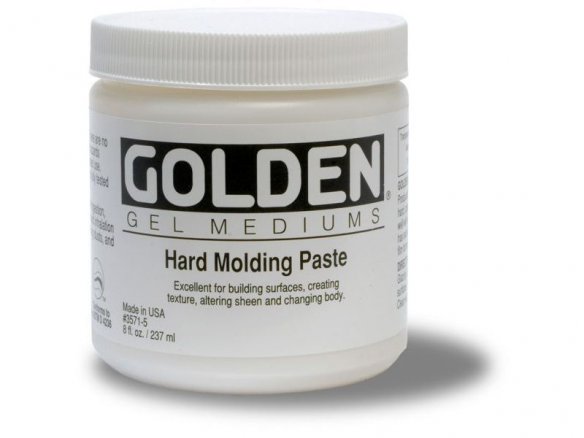 acrylic polymer binding agent with fillers, water-based, very pasty consistency; white-grey, opaque, semi-gloss finish when dry; extremely hard, flexible, can be sanded and carved, miscible with acrylic paints, other pastes, gels and painting mediums, waterproof, lightfast, age-resistant
The Golden Hard Molding paste is similar in colour and consistency to the normal Molding paste but does not hold the shape of textures and structures quite as well. It does, however, dry more quickly and lends itself particularly well to sanding and carving.
This paste can be applied evenly and smoothly. In order to avoid the hardened paste fracturing when dry, applying it in thin coats (maximum 5 mm) to a solid, rigid ground like wood is recommended. Depending on your needs, more coats can be applied one over the other.
The Golden Hard Molding paste can also be used as the ground for acrylic paints as well as for filling and leveling purposes. It can also be used for mixing purposes.
Golden Hard Molding paste, 237 ml tub (3571)