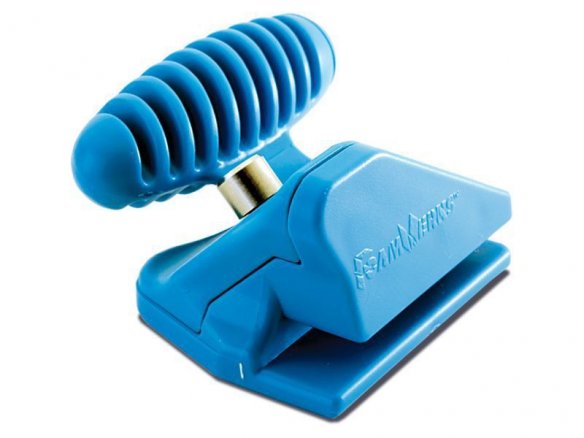 cutter for cutting the ends of sandwich panels with 5 mm thicknesses, plastic housing, on-board blade storage compartment
Anyone who often builds models using KAPA BOARDS or FOAM BOARD knows that when forming joints of two boards at a 90° angle there is always the problem that you can always see one of the edges of the board if it hasn't been mitre cut. Voilà! The FoamWerks rabbet cutter allows you to cut the edges of 5 mm thick sandwich panels in one stroke in such a way that one side of the paper cover layer remains intact. This then serves to cover the exposed board edge when joining two boards. In this way, very clean adjoining foam board joints are created.
To accomplish this trick the cutter has two blades that are so positioned that both horizontal and vertical cuts are made simultaneously. When using this tool, you lift the board away from the workbench to begin the cut. Right-handers start the cut on the edge nearest them and push the cutter; left-handers start at the farther edge and pull the cutter towards them. The blade depth cannot be changed; this tool is designed for boards with 5 mm thicknesses only.
The right replacement blades, Type WC, can be found under FOAMWERKS REPLACEMENT BLADES.
Foamwerks rabbet cutter WC-4010, incl. 2 blades WC