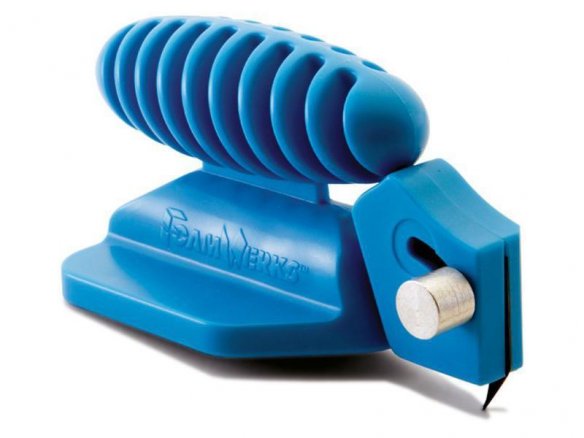 push-style cutter for cutting free-form shapes in sandwich panels up to 5 mm thick, plastic housing, on-board blade storage compartment
The FoamWerks freestyle cutter is designed for cutting free, irregular shapes out of sandwich panels, polystyrene foam or rigid foam boards. This makes it particularly useful in architectural model making work as in, for example, making model base plates with many height levels. The cutter is pushed for cutting, which makes it easy to guide the blade along pre-drawn lines. When not in use, one side of the blade holder can be rotated down to cover and protect the blade. The right replacement blades, Type WB, can be found under FOAMWERKS REPLACEMENT BLADES.
You should always use a scrap piece of foam board underneath the piece you are cutting. The cutting mats made out of PVC that we usually strongly recommend as cutting underlays are too hard and too dense for use with the sensitive blades in FoamWerks tools.
Foamwerks freestyle cutter WB-6020, incl. 2 blades WB