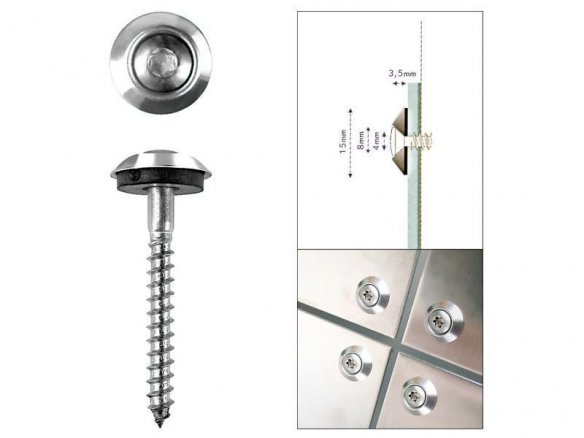 torx screw with corresponding jacket (washer) and rubber protector for mounting wall signs with drill hole ø 4 mm, screw and jacket made of stainless steel, comes with dowels (for quantity see number of screws), given dimensions: l = length of the screw, th = thickness of the screw head including the jacket and the rubber protector
The Fisso ring combo consists of torx screws (Attention: torx bit necessary) and the corresponding jackets (washers with rubber protector to stop the sign from being scratched). We have these components on offer in this constellation as a beautifully simple mounting option for signs.
Because of the short length of the screws, they should only be used to mount signs directly on the wall. The manufacturer recommends a maximum load of 15 kg per mounting point.

Fisso ring combo, screw and jacket, ø 15 mm, l=40 mm, th=3.5 mm, 8 pieces (FRING15KB)