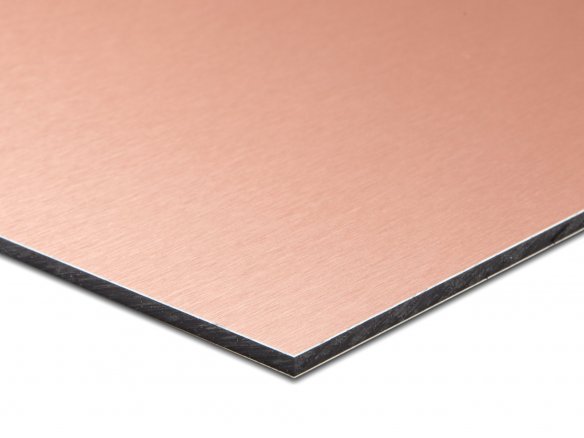 Excellent planarity even in large formats
Fine, brushed surface
For signs, displays, furniture
Lightweight with high flexural strength
Precise edges
Shock-resistant and robust
For indoor and outdoor use
100 % recyclable
Core

Black LDPE core (Low-density polyethylene)

Surface Area

Laminated on each side with a 0.3 mm thick aluminum sheet, polished and coated with a clear varnish/silver-metallic satin finish and baked enamel, with protective film on both sides.

Pattern direction

Cut lengthwise

Weight

3.8 kg/m²

Operating Temperature

-50°C to +80°C
Like the more well-known Dibond material, the Etalbond aluminum composite panel is characterized by its low weight, high flexural strength, solid planarity, and UV resistance. In contrast to cheaper Dibond alternatives, the protective film can always be removed uniformly. Furthermore, the plate is easily and consistently printable and the aluminum is equally strong at every point, which is especially a major advantage for further processing such as milling.

High dimensional stability, precise edges, and a robust surface predestine the easy-to-use panel for the construction of exhibition stands, displays, and window decorations. In the copper-colored, brushed-surface version, Etalbond makes a great impression, particularly as a decorative room divider, furniture, or wall cladding.

Using the "milled edge technique" (a method in which a V-shaped groove is milled on the back, and a part of the LDPE core, as well as the metal cover plate of the front side, are left standing), a multitude of three-dimensional shapes can be realized.

Of course, Etalbond is also suitable for the production of signs for indoor and outdoor use. The high-quality polyester coating of the aluminum surface layer ensures printability in the digital and screen printing process, can be glued with adhesive films and offers excellent corrosion and UV protection when used outdoors.

For cutting Etalbond, circular and panel saws, as well as table shears, are suitable. Curvy cuts are possible with a jigsaw or scroll saw, or professionally with a CNC milling machine.
Custom cutting available. Choose your desired size! For more information about our custom cutting service, please visit Modulor Services.

Holes are best drilled with twist drills bits for metal or plastic. A high speed with low feed rate ensures clean removal of shavings. With a sheet metal punching machine, holes with a minimum diameter of 4 mm can be created.

Etalbond is connected and fastened with rivets or screws made of stainless steel or aluminum. For gluing, metal adhesives for aluminum (such as epoxy two-component glues) or strong double-sided adhesive tapes are suitable. Hook and loop strips such as Dual Lock are also suitable for re-closable fastening. An ideal adhesive to attach brackets on the back for hanging, for example, is the Weicon Flex+bond power adhesive.
Etalbond Alu LDPE composite board, brushed copper (custom cutting available)
2 Variants
custom cutting
1500 mm x 3050 mm