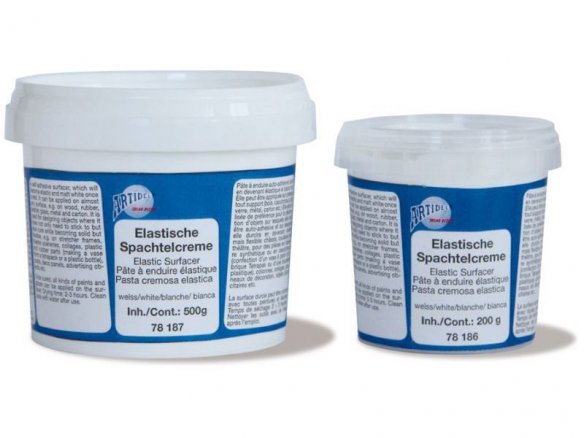 ready-to-use filler for interior use, drying time is 2-3 hours
The name fits well for this filler because it is less for repairing or filling (holes) purposes than it is for applying a flat coating on different materials. When you open the can, you can´t help but think of Nivea cream but it is nonetheless a real filler that is so elastic when cured that it can overcome even deep folds and creases without breaking up or chipping off. It cures to a closed, really smooth, matte white coat that adheres especially well to wood, cardboard, leather and rubber but also metal and glass. Because of its elasticity and stretchability it can be applied to textiles (even in thick coats) or can be used to make three-dimensional protruding areas on a canvas screen.
This elastic cream surfacer is water-based and can be coloured by means of pigments or dispersion paint or painted over with practically any kind of paint when cured. After curing, the surface is water resistant (which allows it to be painted over with water-based paints) – we have not, however, tested its weather resistance and therefore can only give a limited recommendation for its exterior use. In addition, you will be pleased to know that it is physiologically harmless.
Elastic surfacer (filler), white cream
2 Variants