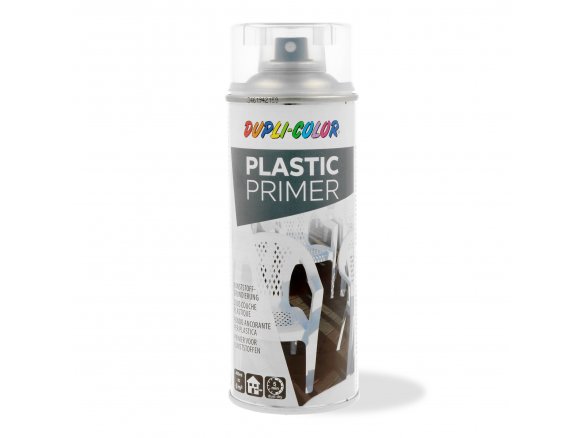 synthetic resin based primer in a aerosol can, can be painted over after about 5 minutes, weather resistant, hazard warning: Xi (= irritant), F+ (= highly flammable)
Dupli-Color plastic primer is the perfect bonding agent when working with the combination of plastic and paint. It is suitable for both indoor and outdoor use. After it has been applied (sprayed), a colourless, translucent coating is produced, one that is ready to be spray-painted after only five minutes. The types of paint it accepts is basically unlimited – acrylic, synthetic resin and nitro-synthetic (nitro-combi) based paints can all be used but, it should be noted, a preliminary test should be carried out for any first-time combination of primer and paint because you can never be completely sure about compatibility among these products. We have tested the compatibility of our spray paints MARABU SPRAY PAINT and AEROCOR SPRAY PAINT and found them to be perfectly acceptable – our recommending these is therefore not just self-serving! In addition, and as you might expect, all the Dupli-Color spray paints are of course compatible as well!
The plastic primer can be used with the following plastics: polyurethane (PUR), polystyrene (PS), polyamide (PA), acrylonitrile butadiene styrene (ABS), (fibre)glass reinforced plastic (GRP) and rigid PVC. In the case of polystyrene rigid foam (Styrofoam, polystyrene, etc.) we carry the POLYSTYRENE PRIMER to serve as a barrier layer.
One can (400 ml) of primer is enough to cover an area of about 5 to 6 m2.
Dupli Color plastic primer spray can 400 ml, colourless