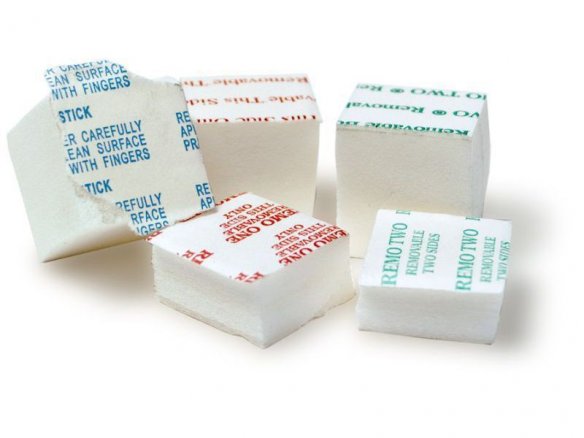 closed cell PE foam, adhesive: rubber-based, temperature resistant up to ca. 65 C°, on silicone paper, given dimensions: height x length x width
Double sided adhesive foam blocks are cubes that have been cut out of solid polyethylene foam that has been equipped with double sides adhesive. The adhesive blocks come in three versions: both sides with removable adhesive, both sides with permanent adhesive, and one side with removable adhesive and one side permanent. These blocks are most commonly found being used for affixing Kapa boards, presentation charts and cardboard on walls. In doing so, these adhesive blocks fulfill two functions at once: they are distance pieces as well as mounting agents.
Both removable versions are special in that are active in the "temporarily attach something without leaving any traces when removed" realm, as a way to attach photographs to virgin white walls or the like.
Gluing itself is already a difficult topic, temporary and residue-free gluing all the more difficult because factors like temperature over time and the combination of materials plays an important role. Much is unpredictable and simply has to be tested to see if it works. We have had good success with the two removable versions when using them to affix large Kapa boards on painted walls, rough concrete walls and wood. We were always able to remove the boards after many weeks without leaving any traces. Nevertheless, we cannot give any specifications regarding bearing capacity of the blocks.
Because of its soft surface, the blocks can compensate for any unevenness of a wall. The substrate should, as with all gluing work, be dry and free of grease and dirt. The blocks can be cleanly cut with a blade.
Double sided adhesive foam blocks, white
12 Variants