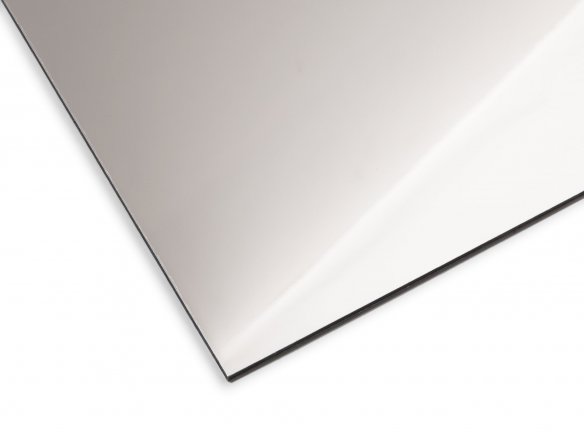 black polyethylene core, both sides coated with 0.3 mm thick aluminium sheets: one reflecting and one alu metallic semi-gloss (stove enamel finish), for outdoor applications, both sides have protective film
The clarity of the Dibond mirror is comparable to that of a glass mirror but has the advantage of being lighter in weight and practically unbreakable. The latter attribute means that it is a great choice for use in situations where safety is the primary concern. Dibond is considerably less sensitive to compressive forces than either glass or acrylic glass which, when tightly mounted, will crack or at least have a distorted reflection at the mounting points. In terms of transport and mounting, Dibond is most appealing for use in the creation of trade show and store structures because the panels weigh about half as much as glass with the same thickness (3.8 kg/m² for 3 mm, 4,75 kg/m² for 4 mm).
Dibond lends itself much better to machining than ACRYLIC XT MIRROR because the mirror surface will not split away when being cut. It is also better than acrylic glass in the way it reacts to temperature swings in that it expands much less in heat and shrinks much less in cold.
Custom cutting available. Choose your desired size! For more information about our custom cutting service, please visit Modulor Services.
Dibond Alu/PE-composite board, mirrored (custom cutting available)
3 Variants
custom cutting
250 mm x 500 mm
1250 mm x 3050 mm
Note
Please note: the supplier recommends that the "Dibond Alu/PE composite board, mirrored" not be used indoors because a disturbing iridescence (blue-green striations) can develop on the surface.