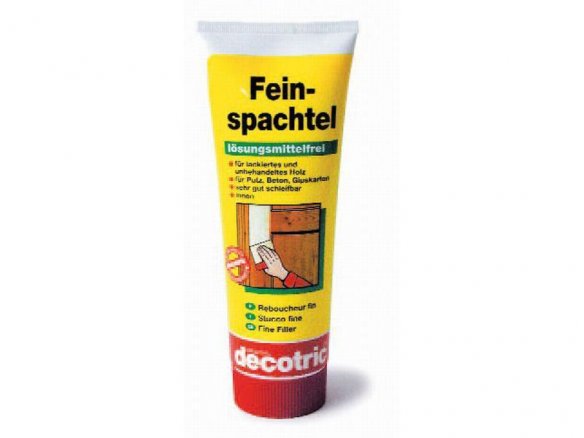 ready-to-use filler for interior use, pure acrylate dispersion with fillers, white, solvent-free
This fine filler in a tube is great for use in repairing and smoothing wood that is painted or untreated so as to prepare it for further painting work with acrylic or alkyd resin paints. In addition it can be used to work on the surface of foam models because it will not corrode POLYSTYRENE FOAM. It is not, however, good for working with metal, glass or plastic – 2-component filler should be used for those materials. Raw, highly absorbent wood should first be treated with a primer.
The filler should be applied in a maximum thickness of 3 mm using about 1.8 kg/m² for each millimetre of thickness. After an hour the filler is completely dry and can be sanded. When filling very large holes, it should be noted that the filler will shrink a small amount and will tend to sink down a bit which means that a second filling procedure might be necessary.
Decotric fine filler, PE standing tube 400 g