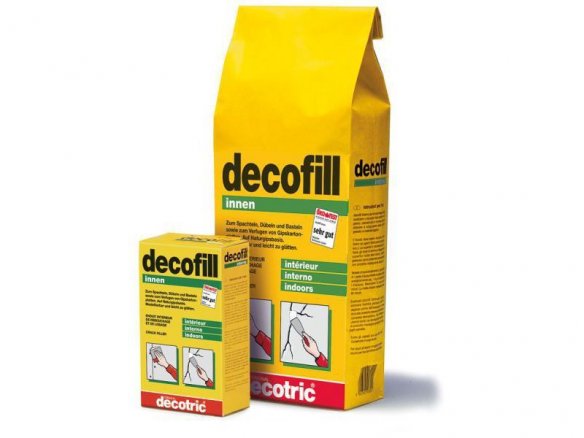 cellulose reinforced gypsum filler for interiors, for filling holes in plaster and masonry, for caulking gypsum plaster board as well as for moulding and modelling, workable for about 60 minutes
Decofill indoors – a competitor on a par with the well-known product "Moltofill" – produces smooth, stress-free surfaces on all mineral substrates like plaster, stone or concrete. Like Moltofill, it is not suitable for use on glass, plastic, wood, metal or dispersion substrates. The filler can be easily stirred to a lump-free consistency, will not swell, crack or shrink and is distinguished by its stability under load and its bonding strength together with its good filling capacity.
1 kilogram of decofill should be poured into 650 ml of clear, cold water, stirred in thoroughly until a lump-free putty is produced and this can then be put to use for about 60 minutes after the 2 – 3 minutes maturing time has expired. After the material has completely dried, the filled area can be sanded as required.
Decofill indoors
2 Variants