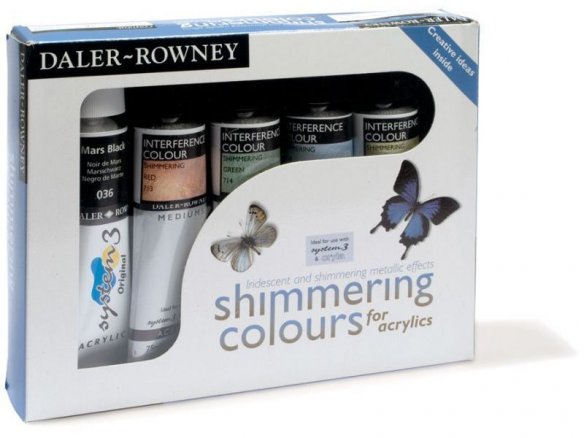 water-based, high viscosity, elastic-hard and waterproof when dry, colours are intermixable and can be mixed with acrylic paint
Shimmering Colours by Daler Rowney are acrylic paints with a metallic, iridescent shimmer that is particularly striking when it is applied pure to a black painting substrate. Beautiful, subtle shimmering effects can also be created when it is mixed with other acrylic paints (e.g. DALER ROWNEY ACRYLIC PAINT SYSTEM 3).
The set of 5 contains the Shimmering Colours Gold, Red, Blue, Green along with a tube of black (Mars black 036) from the Daler Rowney acrylic paint system 3.
Daler-Rowney Shimmering Colours interference medium
7 Variants