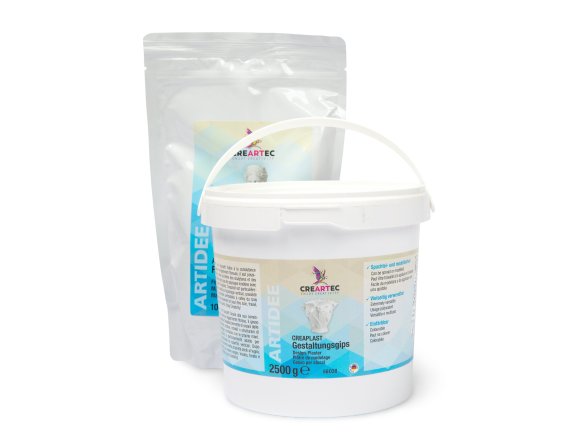 white, mixing ratio of powder to water is 2:1, working life: 35-40 minutes, setting time: approx. 60 minutes, surface hardness (cured): >190 N/mm², temperature resistance (cured): short term up to 170 °C.
What makes Creaplast design plaster different from other conventional plasters is its consistency. After mixing, it immediately takes on a putty consistency that allows it to be applied to vertical surfaces. This makes it ideal for the moulding and modelling of reliefs, ornaments and three-dimensional wall structures as well as for making landscapes in model making. In addition to ARTIST PIGMENTS, both TONING PIGMENTS and ACRYLIC PAINTS can be used for colouring this design plaster.
Treatment: Two parts (by weight) of the powder is mixed with one part water: In doing so, the powder should be slowly stirred into the water with a STIRRING SPATULA until both components are completely mixed. A pulpy mass forms that can be worked with after waiting about two minutes for any trapped air to escape.
Creaplast design plaster
2 Variants