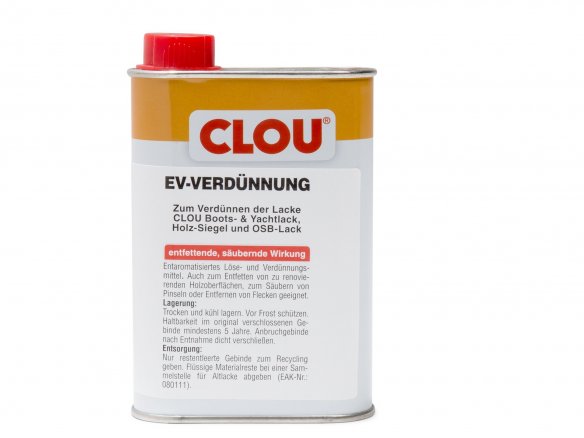 solvent that is free of aromatics
Description
Hazard warnings
The Clou EV thinner is designed for use as a brush cleaner and thinner for the CLOU EL WOOD SEALER and as a cleaning agent for wood surfaces that are to be renewed.
Danger, Kohlenwasserstoffe, C9-C11, n-Alkane, cyclische Verbindungen, < 2% Aromaten = 50 - 100 %, Kohlenwasserstoffe, C9-C11,Isoalkane, Cycloalkane, <2% Aromaten = 25 - 50 %, 1-Methoxy-2-propanol = 2,5 - 10 %, Asp. Tox. 1, Flam. Liq. 3, STOT SE 3, Aquatic Chronic 2
Hazard warnings
EUH066: Repeated exposure may cause skin dryness or cracking.
H226: Flammable liquid and vapour.
H304: May be fatal if swallowed and enters airways.
H336: May cause drowsiness or dizziness.
H411: Toxic to aquatic life with long lasting effects.
Safety instructions
P101: If medical advice is needed, have product container or label at hand.
P102: Keep out of reach of children.
P210: Keep away from heat, hot surfaces, sparks, open flames and other ignition sources. No smoking.
P243: Take action to prevent static discharges.
P261: Avoid breathing dust / fume / gas / mist / vapours / spray.
P271: Use only outdoors or in a well-ventilated area.
P273: Avoid release to the environment.
P301+P330+P331: IF SWALLOWED: Rinse mouth. Do NOT induce vomiting.
P310: Immediately call a POISON CENTER / doctor / …
P370+P378: In case of fire: Use … to extinguish.
P405: Store locked up.
P501: Dispose of contents / container to …
Downloads
Clou EV thinner, 250 ml (for Clou EL wood sealer)