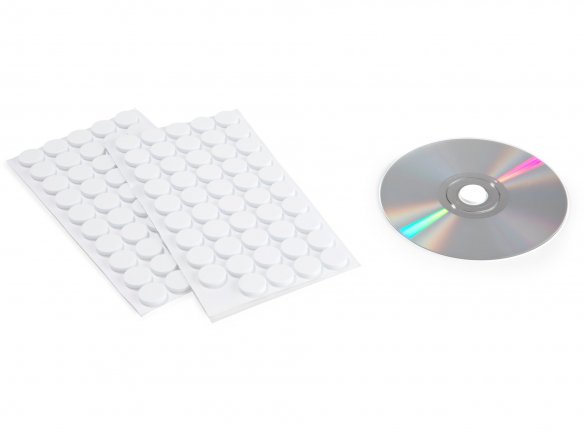 one-sided self-adhesive dots, punched out of foam rubber (EVA foam), ø 15.5 mm, th = ca. 4.0 mm
This is definitely the easiest way to attach CDs somewhere. The self-adhesive foam rubber or felt dots should be glued to the spot where the CD is to be pressed around it in the centre. If you only require a few dots, you can make them yourself by stamping them out of 3 mm thick FOAM RUBBER with a HOLLOW PUNCH (ø 15 mm). In this process, DOUBLE-SIDED ADHESIVE FILM should be attached to the foam rubber beforehand.
These dots are to be used for unpackaged CDs that you want to keep easily available for use (folders, information portfolios, individual CD packages, etc.).
CD clip, foam rubber, self-adhesive, sheet with 100 pieces, white