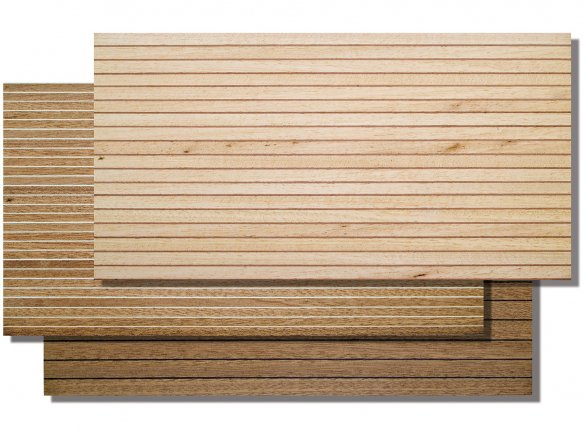 made from two types of wood which are glued and sanded, smooth/smooth, Tc = lengthwise, joint width is 0.5 mm
Boat deck wood sheets are of course used in making model boats but they can also serve well for representing fassades or flooring in architecture model making. They are always made up of two different coloured wood types: the wider strip represents the so-called "plank", the narrower strip the so-called "joint" (which, however, is not recessed). The production of boat deck wood is a fairly elaborate process: Wooden boards with veneer are glued together in alternating directions to make a block which has a height that corresponds to the width of the future "plank" strip. This block is then cut vertically to the glued layers into 1.5 mm thick wooden sheets and then sanded.
A more economical but very time-consuming production method for boat deck sheets is possible using OBECHE FLUTED PANELS: fill the flutes with paint or filler, sand and varnish - in this way the beautiful striped structure is created.
The dimensions of the boat decks may vary due to production: the width is 95 to 100 mm, and their length is 950 to 1000 mm.
Boat deck
3 Variants
Note
The given dimension for width corresponds to the so-called plank width (the wider of the two strips)