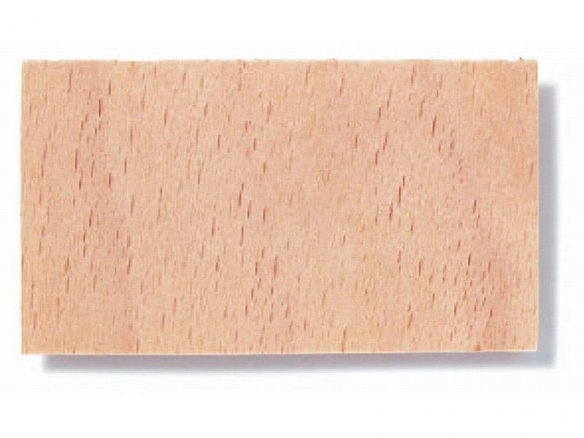 Ever since the development of wood materials like plywood or MDF veneers have played an ever-larger role in the production of furniture and interior furnishings. Since solid woods, whether for ecological or for technical reasons, are rarely the best solution veneers have been used to make wood panels (as the layers in plywood) or for refining their surfaces. One special use of veneer is in combination with formed wooden structural parts soaked in synthetic resin that, for example, can serve as the lightly curved seat area of a chair.
The veneer is produced from tree trunks that are softened by means of steam and then peeled in a quasi spiral form with a paring knife. As a result of this process, the veneer has two somewhat different sides: the surface facing the trunk at cutting is rougher as a result of the paring knife's cutting action making small, sickle-shaped fissures called checks. In German this side is therefore called "gebrochen" which means "torn". It is easy to identify this side by bending the veneer parallel to the grain. It can bend a lot more when the outer side is the "torn" side. When the veneer is subsequently used, the torn side should be on the "inside" if possible because it is not so easy to work with or treat as its opposite.
After the veneer has been peeled off it must still be dried and pressed. This can be done in a press or a belt drier. In the case of compression drying, a very well formed material results but one into which wood stain will tend to soak in irregularly because the surface becomes more porous in the pressing process. Our rotary veneer have grains that run parallel to the first mentioned measurement in the given dimensions, the grain pattern is even and displays the typical uniform medullary ray design of beech wood.
In architectural model making, veneer can be used to represent wooden surfaces or in the making of stratified models. It is, of course, extremely useful when the surfaces from other types of wood must be "veneered".
Beech rotary cut veneer, press-dried
2 Variants
212 mm x 500 mm
500 mm x 850 mm