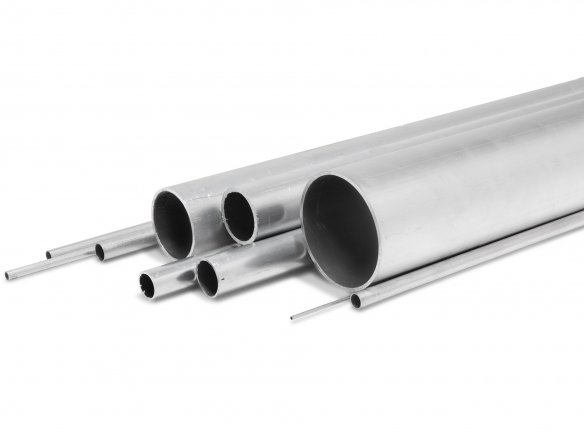 Dimensions

given dimensions: ø exterior x wall thickness
Tubes with diameters larger than 10.0 mm and wall thicknesses of 1.0 mm are made from Al Mg Si 0.5, which is an alloy that can be hardened and which is often used in construction work.
Thin walled tubes with small diameters can be well used in architectural model making; larger diameters are great for decorating and interior furnishings. Pre-cut tubes can also serve as distance pieces for mounting signs (q.v. sign mounts).
Cutting work on the tubes can be done with a circular saw or manually with a household saw or a metal frame saw; they cannot be soldered but gluing work can be done with two component glues (e.g. ones based on CYANOACRYLATE or EPOXY) and for model making ruderer plastic glue or Uhu hard will also suffice. When bent, the tubes will not buckle if you take the precaution of tightly filling them with sand and closing off the ends beforehand.
Aluminium round tube
17 Variants
2,00 mm
3,00 mm
4,00 mm
5,00 mm
6,00 mm
7,00 mm
8,00 mm
9,00 mm
10,00 mm
15,00 mm
20,00 mm
25,00 mm
30,00 mm
40,00 mm
50,00 mm
60,00 mm
0,25 mm
0,50 mm
1,00 mm
2,00 mm