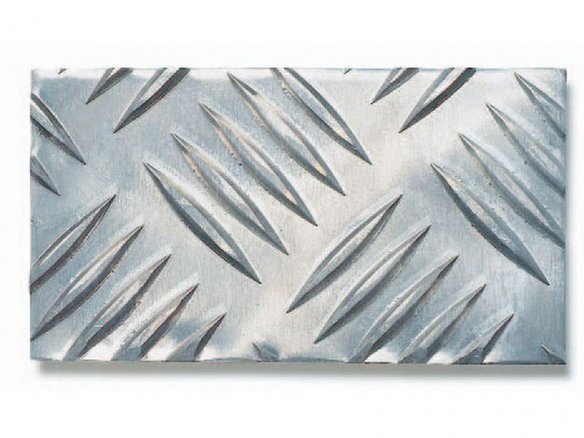 AlMg 3, stamped/smooth, length of the chequer pattern = 35 mm
The classic use of chequer plate and dimple plate is as flooring: it is often found being used for industrial flooring, steps or ramps. Because of its specialized look and the interesting structure on its surface, this sheet is also often used for decorative purposes (e.g. for trade show booths, displays, as panelling or as a photographic background). After undergoing a surface treatment like, for example, one with two component paint, it can serve as an attractive material for kitchens and bathrooms.
The sheets can be cut by means of an electric or hydraulic metal sheet shears or simply sawn. When used as a flooring, it should screwed into place.
Custom cutting available. Choose your desired size! For more information about our custom cutting service, please visit Modulor Services.
Aluminium chequer plate, Quintett W5 (custom cutting available)
2 Variants
250 mm x 250 mm
250 mm x 500 mm
Note
Please note that no exchange is possible in the case of products cut from rolls and pre-cut pieces.