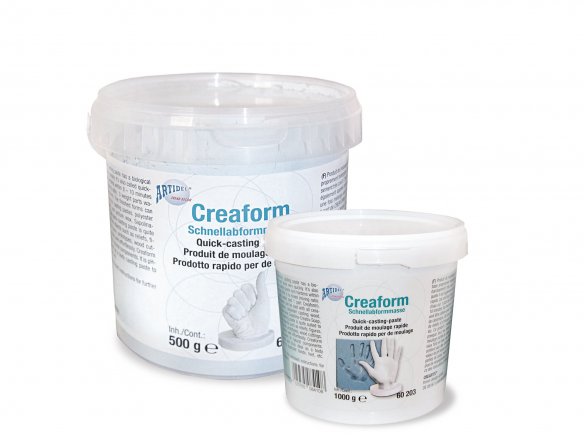 Rapid form-alginate based on purely natural ingredients
Also for body casts
For stable molds
No shrinkage after curing
Material

powdery algae-based casting material with silane chips

Consistency after curing

elastic, dimensionally and geometrically stable

Color

blue

Odor

neutral

Weight mixture

Water to powder 3:1

Volume mixture

Water to powder 1:1

Pot-life

3-4 minutes

Curing time

6-10 minutes

pH-value

slightly alkaline with pH = 7.5 - 8

Density at 20°C

0.28 g/cm³
Creartec's Creaform Alginate is a powdery, fast setting molding compound based purely on natural ingredients. After mixing with water, the compound cures to an elastic material within 6-10 minutes.
The cured mold can be cast with ceramic casting compounds, but also - and this is the first special feature of the Creaform casting alginate - with polyester, polyurethane, wax, casting soap, etc. This is usually not possible with normal alginate because the residual moisture in the mold wall reacts with these materials
Other unique properties of Creaform:
• The material is dimensionally stabilized so that the finished negative mold does not shrink after curing, and the molded objects can be easily removed from the alginate mold. Normally, an alginate mold shrinks quickly during drying as the water evaporates.
• Microfine silane chips ensure that the mold is more stable and can be used more often after curing than molds made of conventional alginate, which can usually only be used once.
Because the Creaform quick casting material is skin-neutral and free of harmful ingredients (no cadmium, no lead, no preservatives), it works especially well for body impressions, e.g., for hand and footprints of your children. Make-up artists use them to get a perfect impression of an actor's face. However, casting alginate is also used wherever a negative mold has to be produced quickly for casting: in prototype construction, in restoration for copying a relief, or for fully plastic casts of hands, feet, and figures.
Here's how it works:
You mix cold water and alginate powder either by weight 3:1, i.e., 300 g water and 100 g powder, or by volume 1:1, i.e., 1-liter water and 1-liter powder.
After one to two minutes, the compound is ready for molding, and after approx. 6 to10 minutes, Creaform is completely set in a rubbery state - so you should work quite quickly. Important: You must moisten the master model before taking the impression.
Then, you can immediately pour the mold with ceramic casting materials, e.g., TFC Xyrarock snow-white ceramic casting powder. If you want to use polyester or polyurethane casting resins, wax, casting soap, etc., you must let the mold dry for at least 60 minutes so that the mold wall is no longer damp.
Creaform is self-releasing, which means that you do not need any additional release agents if your objects are made of non-absorbent materials such as wood, stone, ceramics, porcelain, glass, metal, plastic, rubber, etc.
By the way: You can dispose of molds from Creaform that are no longer needed in your household waste without hesitation.
Important: Please do not use plaster as casting material, because it is hygroscopic, i.e., it pulls the water contained in the alginate out of the mold wall, and this would lead to an uneven surface of the replica.
We have updated our range.  Creartec Creaform Casting Alginate Compound quickly replaces TFC Casting Alginate Compound.
Alginat universal moulding material
3 Variants