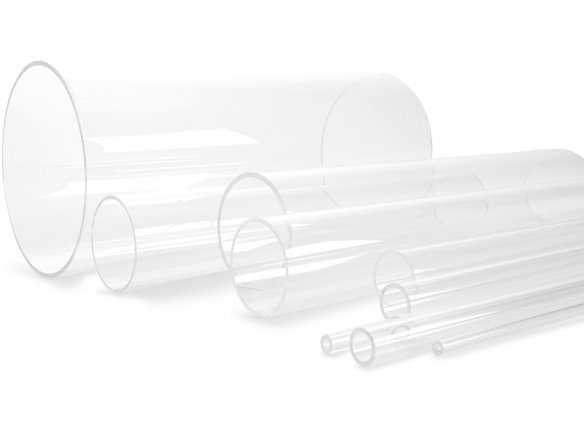 transparent, glossy, given dimensions: outer diameter x inner diameter
The acrylic tubes are manufactured in two different qualities: cast or extruded. Cast tubes are distinguished by their absolute absence of schlieren (striations) together with high transparency and by how well they take to being machined. They are, however, very expensive because their production is much more complicated that the extrusion method. Extruded tubes with diameters up to 60 mm have basically the same appearance as their cast brothers but are more difficult to saw through. In diameters larger than 150 mm, however, their quality in regards to transparency and freedom from schlieren (striations) leaves a lot to be desired.
Besides architectural model making, the acrylic tubes are used in the production of furniture, displays and decorations because they will bend very well when heated. They can in these applications be used in conjunction with the tube connector system with great effect.
In order to avoid having the tube buckle it should be firmly filled with sand and closed at both ends with a stopper so that the sand cannot be displaced. Then, after the proper temperature has been reached, it should be bent in the bending template. So as to avoid having creases appear on the inside portion of the angle, you should lightly pull on the tube's ends. To cut the tubes you only need a metal saw that has a blade with very little cross toothing, If you don´t want to cut them for yourself, the tubes can be cut to size by us (see CUSTOM CUTTING SERVICE)
Acrylic glass XT round tube, colourless
32 Variants
2,40 mm
3,20 mm
5,00 mm
6,00 mm
7,00 mm
8,00 mm
10,00 mm
12,00 mm
15,00 mm
20,00 mm
25,00 mm
30,00 mm
40,00 mm
50,00 mm
60,00 mm
70,00 mm
80,00 mm
90,00 mm
100,00 mm
120,00 mm
150,00 mm