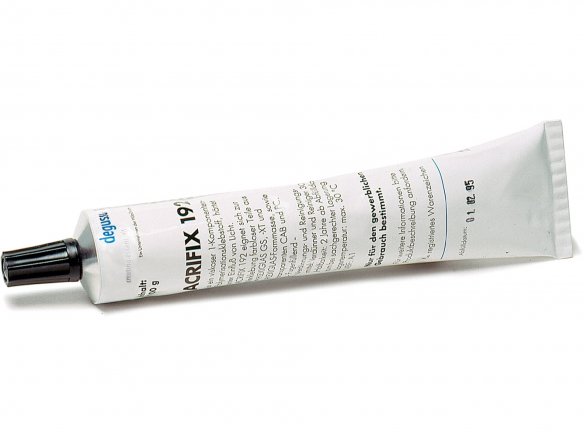 material

Polymerization adhesive
Description
Hazard warnings
Attributes: Acrifix 192 is a one component polymerization adhesive; it is a transparent, pale violet, viscous solution of acrylic resin in methyl methacrylate which, when exposed to UV rays, polymerizes, i.e. cures or sets.
Applications: This adhesive is primarily used for seam and planar bonds on colourless acrylic glass. Acrifix allows you to make highly transparent, high strength and practically colourless (rarely, slightly yellowish) bonds.
Treatment: Before beginning any gluing work, the pieces should be de-greased (soap and water). If the pieces were reshaped they will be internally stressed . These stresses are best equalized by means of tempering so as to avoid their being allowed to eventually damage any bond with the passage of time.
In the process of gluing, the respective pieces should be fixed into the desired position. If necessary, the bond seam and the surrounding area should be masked with a suitable adhesive tape. Acrifix can then be applied directly from the tube or a syringe onto the joint while avoiding bubble formation. This bond must then be exposed to a suitable light source until it has cured. A "normal" tubular fluorescent lamp (illuminant type 25) or simply the sun will suffice as the light source. This adhesive is cured after about 24 hours. Greater adhesive strength can be achieved by means of subsequent tempering.
Danger, Methylmethacrylat = 60,0 - 100,0 %, Diphenyl(2,4,6trimethylbenzoyl)phosphinoxid = 0,1 - < 1,0 %, (VOC-Gehalt = 0,0 %), Entzündbare Flüssigkeiten, Gefahrenkategorie 2, Ätzung / Reizung der Haut, Gefahrenkategorie 2, Sensibilisierung der Haut, Gefahrenkategorie 1 B, Spezifische Zielorgan-Toxizität (einmalige Exposition) (inhalativ), Gefahrenkategorie 3
Hazard warnings
H225: Highly flammable liquid and vapour.
H315: Causes skin irritation.
H317: May cause an allergic skin reaction.
H335: May cause respiratory irritation.
Safety instructions
P210: Keep away from heat, hot surfaces, sparks, open flames and other ignition sources. No smoking.
P261: Avoid breathing dust / fume / gas / mist / vapours / spray.
P280: Wear protective gloves / protective clothing / eye protection / face protection.
P302+P352: IF ON SKIN: Wash with plenty of water / …
P501: Dispose of contents / container to …
Acrifix 192 acrylic glue, tube 100 g