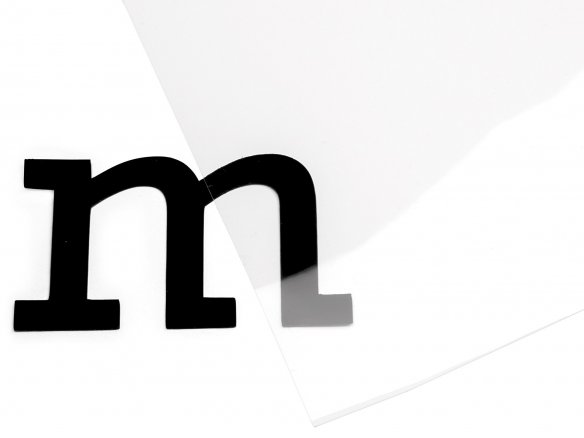 colourless, glossy/glossy
Cellulose ester is produced from pure cellulose (cotton linters) and acetic acid which go through the chemical reaction of esterification. The cellulose ester is therefore practically a natural product – a so-called natural material derivative. There are a lot of cellulose esters, cellulose acetate being one of the most important among them. There are also a wide variety of the cellulose acetates themselves. Our films are made from diacetate.
As a relative of celluloid the cellulose acetate is one of the most well known plastics and was the first one to be used in injection moulding processes. In fact, from 1949 to the 1960´s Lego bricks were injection moulded cellulose ester. These days it is used for eyewear frames, tool handles, hair ornaments or the outer covering for books. Most cellulose esters end up being used in the production of fibres: cigarette filters are the result of individual cellulose fibres being combined to form a tube. Other products that are made from cellulose acetate which are on offer from Modulor include the range of Scotch tapes from 3M.
Attributes: Acetate film is a highly transparent, scratch-resistant and supple plastic film which contains only a small amount of plasticizer. Because cellulose acetate absorbs moisture relatively well, the film displays antistatic characteristics and does not attract dust as readily as other plastic films. It is not recommended that the thicker versions be stored in rolled up form because the film strongly tends to take on the rolled shape. It is not resistant in the long term to UV light and after many years in sunlight it tends to yellow. In Germany, the acetate film also goes by the name "Ultraphan".
Applications: It is a preferred medium for animated movies because of its high transparency, its ability to take on colouring and its resistance to forming Newtonian rings (rainbow coloured streaks). Another field in which the film is used is airbrushing – in this case because you can score and break it fairly easily and then use it as a template.
Treatment: Acetate film can be bent without crazing (whitening around the fold line), can be scored and broken even into round shapes, can be cut with an Cutter or scissors. For gluing, plastic adhesive containing solvent is best, or the solvent Acetone can be used pure. 
Acetate Film, transparent (Ultraphan)
2 Variants
Note
Please note that no exchange is possible in the case of products cut from rolls.

The minimum order for products sold from rolls: 0.5 running metre