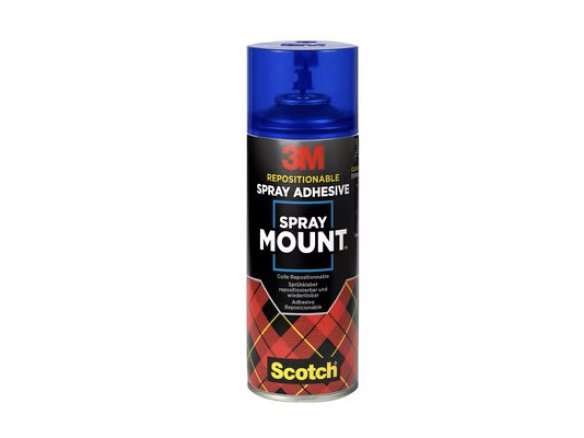 for removable bondings, synthetic elastomer-based, colourles, UV resistant, aging-resistant, NOT polystyrene foam compatible, includes replacement spray nozzle (in the cap), hazard warnings: Xi irritant, F+ extremely flammable
Spray Mount is best used for layouts, mounting work and for making presentation boards. It is sticky right away but still allows the object to be removed and repositioned a number of times. This adhesive, however, develops considerably more adhesive strength than Creativ Mount – when applying a thick layer or covering both sides of the assembly pieces, a permanent bond is produced.
Spray Mount is distinguished by its fine, even spray and by the fact that the glue does not discolour. It should be used when mounting prints, posters, photographs or drawings that you plan on removing from their substrate after some period of time has elapsed. According to 3M, the contents of a can (400 ml) are enough to cover approximately 10 m².
When mounting prints on presentation boards both X-FILM DOUBLE SIDED ADHESIVE FILM or XYRON MACHINES can be used as alternatives for Spray Mount.