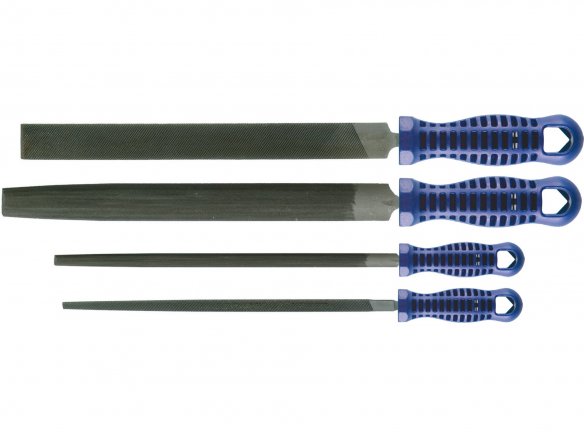 plastic handle with pinhole for easy hanging
Material

tool steel

Grade (cut)

bastard cut or second cut

Packaging

plastic sleeve
General information:
The linear arrangement of the teeth on the file blade is called the "cut".
The cut of the file refers to how fine its teeth are. They are definded as 
(from roughest to smoothest): rough, middle, bastard, second cut,smooth and
dead smooth.Thus they can also be seen as being differentiated by the number
of teeth per centimeter.
Our files with the bastard/second cut have about 5.3 - 16 cuts per centimeter
and are considered as rather coarser files for a high degree of material
removal.
After use, the teeth on the file´s surface definitely must be carefully cleaned
with a file brush because if the dust from your work ends up becoming firmly set
in the teeth through the action of rust, the file will suddenly seem to be 
blunt and dull when next used. 


Info workshop flat file:
For filing flat surfaces and deburring corners
Info workshop square file:
For filing profiles
Info workshop half round file:
For filing flat surfaces and rounded surfaces and deburring angles 
Info workshop half round file:
For filing rounded surfaces and deburring holes




Workshop file, half round, 200 x 20 mm, bastard cut
Accessories and Related Products