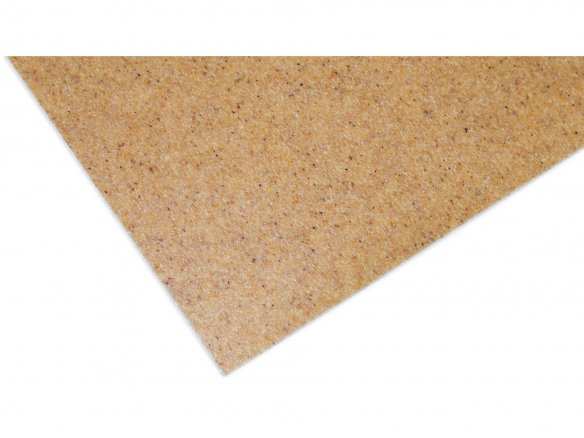 cellulose-polyester composite, light brown and opaque, th = 1 mm, ca. 1100 g/m², can be thermoplasically shaped any number of times, one side is coated with a thermoplastic adhesive (smooth, semi-matte surface) or, alternatively, uncoated (rough-matte surface), working temperature for shaping and gluing is approx. 90 – 100 °C, time it takes to warm up: 2-3 minutes, processing time: 5-8 minutes, flashpoint: > 200 °C, contains no solvents, recycleable, biodegradable, water repellent, can be sanded and painted
Although originally developed as a thermoplastic and mouldable material for industrial shoe making (Rhenoflex RX 5050), the Worbla´s Finest Art modeling material has found its way into other uses like making masks, faces, blades, replicas of equipment or gemstones, ornaments, decorations, jewellery and other similar objects.
For these uses, the material must be heated (about 2 to 3 minutes at 90 – 100 °C by means of a hair dryer, steam, hot water or a microwave oven). The material then becomes very pliable for about 5 to 8 minutes working time during which it can be bent and shaped before it cools and becomes once again stiff (if necessary, very sensitive moulded shapes should be covered with a moist cloth for protection). This process can be repeated any number of times, which means that making corrections in your work is always possible. Even leftover scraps can be reconditioned by heating them and kneading them (rolling pin!) so that they can serve as a modeling compound on their own – this means, of course, that there is no wastage. The adhesive that has been applied to one of the sides (which is also activated by heating and should therefore always be positioned on the exterior of the modeled object) makes it possible for the "artist" to increase the thickness of a layer or to attach small items or parts – this does not normally require any additional adhesive!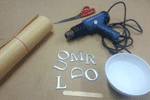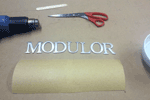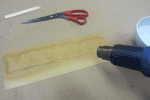 This composite is, yes, light (ca. 1100 g/m²) but is nonetheless dimensionally stable and relieves the model maker of the need to include a time-consuming substructure for his model. Worbla´s Finest Art can be cut with a scissors or cutter irregardless of temperature. After it has hardened again, this material can be sanded or reworked with an emery board. Especially smooth cutting edges can be attained by reheating those areas and smoothing them with your finger. The relatively porous surface takes well to being painted (acrylic paint) or even spray painted with special effect paints – we do, however, recommend that a plastic primer or other base coat be applied first. Worbla contains no solvents, is biodegradable and can be stored for practically an unlimited amount of time under normal climate conditions.
Worbla´s Finest Art modeling material sheet
5 Variants
250 mm x 375 mm
375 mm x 500 mm
500 mm x 750 mm
750 mm x 1000 mm
1000 mm x 1500 mm